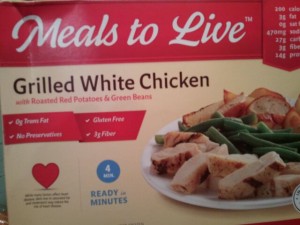 One of the things I love is roasted red potatoes. I'd take them over mashed/baked potatoes anyday. Something about the crisp outside and soft inside and great flavor that always wins me over. So I was excited to get the Meals to Live Grilled White Chicken with Roasted Red Potatoes & Green Beans in the mail the other day and try it. I recently tried the other two Meals to Live frozen meals, and was hoping this one would be my favorite.
So after cooking in the microwave, I transferred it to a plate (I tend to do this a lot. I like eating on plates better than out of a carton or container. Who knows?) Here's how it looked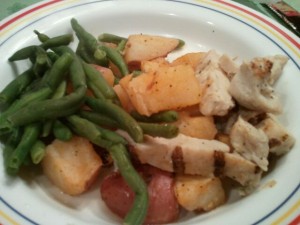 I actually thought it looked pretty tasty =)
When I did transfer it to a plate I noticed a rather good amount of liquid went with it. Chicken Broth? Water left over from the frozen green beans? I wasn't sure, but I just discarded it.
First I tried the green beans. They were a bit disappointing- a little chewy, with a hint of salt flavor to them. Not bad, but not spectacular.
Next up, the chicken. Much better than I had expected! It was a bit salty, chewy, and actually quite delicious! A few pieces were a bit dry, but nothing too serious.
And now, the potatoes! I couldn't wait to try these. The box depicted them as being crispy, so I was let down to find out my potatoes were mushy. I kind of expected it, seeing as I cooked it in a microwave instead of the oven, but they tasted more like a baked potato than roasted potatoes. However, they were still pretty good. They had a good flavor, and although the texture didn't live up, the taste certainly reminded me of yummy roasted red potatoes, with a bit of black pepper flavor as well.
Overall, a pretty good dish. More food was put on my plate than I had expected, because I thought the tray was rather small. I wish there was a different vegetable instead of green beans (perhaps broccoli?? =) !), because the texture kind of brought the dish down. However, I would certainly eat it again. 4 stars. This dish is also gluten free, according to the box.
1 package (198 grams) is 200 calories, 3 grams of fat, 27 grams of carbohydrates, 3 grams of fiber, 1 gram of sugar and 14 grams of protein.
What's your favorite way to eat POTATOES?
I was provided this meal to try for free from Meals to Live.