The one thing that seems to always hit my sweet tooth? Cookies. I prefer cookies over brownies or cupcakes, or any other sweet. So of course I was excited to hear Luna came out with a Chocolate Chunk flavor, and I was sent a free bar to try in the mail =)
First, I was impressed with the nutritional stats- only 11 grams of sugar , 180 calories, and 9 grams of protein for the whole bar. But how did it taste?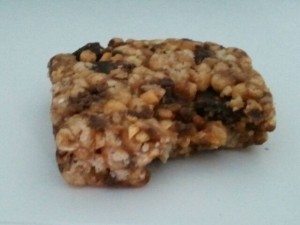 It certainly did remind of a cookie. It  was chewy and soft, yet crispy at the same time. It was "salty" in a way that I needed water to drink with this bar, kind of like when someone eat pretzels. It just craves a drink! There was also just a hint of vanilla flavor. The chocolate pieces were the best part- big and they had a nice bite them. Smooth in consistency, and  kind of like a cross between dark and milk chocolate, not too sweet and not too bitter.
Overall, pretty good. I felt that of the Luna bars I have tried in the past, (like one of my favorites, here! ) this one wasn't as sweet as the others. However, I still liked it, and I loved the chocolate pieces throughout the bar. I would eat this again. 4 stars
Whats your favorite Luna Bar flavor?
1 bar is 180 calories, 5 grams of fat, 26 grams of carbohydrates, 3 grams of fiber, 11 grams of sugar and 9 grams of protein.