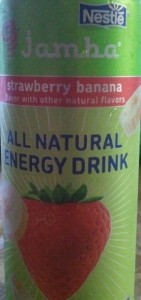 I'm not a big fan of energy drinks- I barely even drink coffee (I'm much more of a latte person anyway (;  ) But, the other day I went to Jamba Juice to get a smoothie, and they handed me one to try for free. Why not? It was all natural, and I was already a fan of Jamba Juice. I had a feeling it was going to be good.
So, yesterday before the gym, I had some oatmeal, some fruit, and this Jamba Juice All Natural Strawberry Banana Energy Drink. Straight from the can, it said that the drink contains "80 mg of natural caffeine per can", "natural caffeine to help support mental alertness", and  "no artificial colors, artificial flavors, taurine, or other ingredients you need a degree in chemistry to understand" (Ha- I thought that one was funny. Yet true. Some ingredients I dont know, and I TOOK a course in chemistry!)
So already, I thought I was going to like this. I love strawberry banana flavored things, and  I loved how it was a natural drink with a boost of caffeine.
I opened the slim can, and took a sip. It had a very light fizz to it, that I liked. Not so bubbly, but not entirely flat where it was like juice. It had a strawberry flavor, with a mild banana aftertaste. It wasn't super sweet, however, and I really wish it was sweeter. I felt it was almost dulled down a little bit, and I was searching for some extra sweetness.
All in all, it reminded me of what a strawberry banana yogurt would taste like, with the light carbonation of a soda. A little awkward, but not bad. I CERTAINLY had plenty of energy at the gym, which I partly give credit to the energy drink. I was dragging a little bit during the day, and the drink helped perk me up! I would drink it again, but perhaps add a pinch of stevia. 3 stars
What's your favorite energy drink?