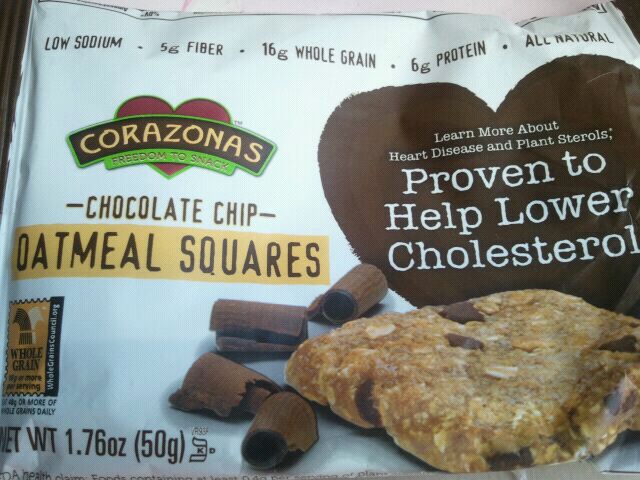 Remember my oatmeal debate?  How I'd love to eat oatmeal all the time since it's healthy, filling and deliciously versatile. But, I'm, well lazy. I don't like cleaning pots, or waiting for the oatmeal to cook. Especially if a cold bowl of cereal is ready in five minutes after slciing up some fruit and pouring some almond milk. It's just too easy!
However, I discovered I could still eat those healthy oats, but in an oatmeal square. I enjoyed the Chocolate Brownie with Almonds Oatmeal Square by Corazona, so I was sure I would also like the Chocolate Chip Oatmeal Square they sent me to try for free as well.
Some quick facts from the wrapper, this oatmeal square has 16 grams of whole grain, is all  natural, and "is made with ingredients proven in more than 140 clinical studies to help lower LDL (bad) cholesterol".
I opened this square up before a workout for a quick boost. I didn't have time for a complete breakfast, so I figured this would be good to give me some energy alongside a scoop of peanut butter (you probably saw that one coming ; ) ). This also explains why there isn't a picture. I'm a bad blogger and was in a rush to eat this. Sorry! : (
This bar was actually really tasty. It was decently sized, about the size of my palm. It was sweet and almost fruity in flavor, it was chewy and a bit dense, but really good.  It was light and slightly sticky as well. It had a mild oatmeal cookie flavor, but wasn't as sweet as an oatmeal cookie would be. The chocolate chips added a nice touch, and tasted like a smooth milk chocolate. Also, the texture and taste almost reminded me of a sticky banana bread. It was really quite good!
Overall 4 1/2 stars. I would certainly buy it if I saw it in stores, and it provided me with a good amount of energy for the gym! Plus, who doesn't like eating chocolate chips with some whole grains? 😛
Favorite oatmeal add in? Mine is good ol cinnamon, butter, and milk. Like this yummy recipe here! : )
Here's the nutrition facts from the website