The nice peeps over at Go Macro sent me a variety box filled of their Macrobar mini bars! They are also kind enough to offer a free box to one of you lucky readers 🙂
These bars are organic, soy free, vegan, and kosher. Each bar that I tried was also macrobiotic and gluten free as well. Each of the mini bars is roughly 100-130 calories, and some of them have a nice bit of protein (4 grams or so), making them the perfect little snack, or pre workout boost.
So…let's get started! Each bar is roughly the length of a pack of Trident gum and a little wider.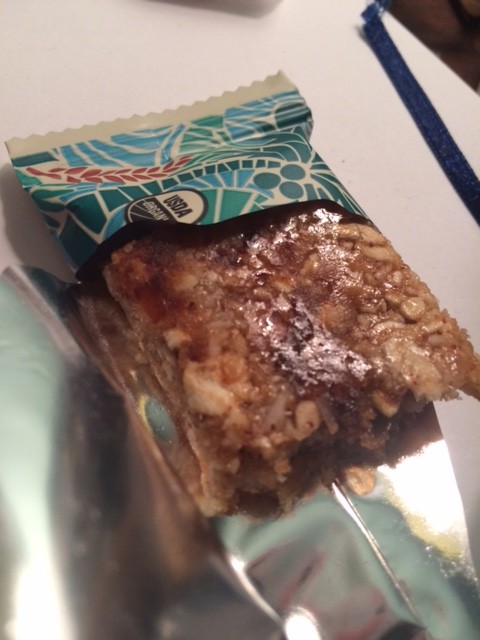 Sesame and Dates
I kind of like it…it has that strong aftertaste that sesame provides, but the dates mellow it out. I feel like it might have went better with raisins, but dates are good. The bar is coated with little sesame seeds, is chewy, and not too sweet other than the bites with date, which are scattered throughout. It's not bad, I can dig it. 3 stars
Banana almond butter
Chewy, can taste banana flavor. It is kind of bland tho…needs a little sweetness. I can taste some type of spice…cinnamon or nutmeg. I do like the flavor combo, it reminds me of a banana walnut ish muffin type of flavor. However, I wish it was a tad sweeter, but not bad! 3 stars
Pb chocolate chip
I like this one. Again, a muted sweetness. Tastes like a granola bar but not as sweet as commercial brands. You can taste the brown rice syrup used to sweeten the bar, which also gives it a chewy texture. The peanut butter flavor is yummy, but not overpowering, and mild. The chocolate chips are scarce, but on the larger side, and are mild in sweetness but add a nice touch. There are also tiny peanuts in the bar for a little baby crunch. I like this bar. 4 stars
Almond butter and carob
Has a semi toasted flavor, hard to explain but it's good. Once again it is chewy and sticky and sweet.
I don't really know where the Carob flavor is though? Practically non existent. There was a predominant almond butter flavor and almost tasted like date instead of carob.
3  stars
Apple and walnuts 
Sweet and chewy, and  tasted like an apple pie flavored bar. There were teeny pieces of sweet dried apple, and there was definitely some cinnamon aftertaste. The walnuts aren't frequent but the flavor is there, and is adds a nice little crunch.
Yummy! 4 stars 
Granola and coconut
Sweet and chewy, with almost a fruity flavor! It had a yummy taste from the granola.
The coconut flavor is mild, and some bites you don't taste it. However, a very good bar, great pairings and great flavor.
4 1/2 stars
Cashew Caramel- This one mostly just tasted like cashews. I didn't detect much caramel flavor, nor was it all that sweet. It was muted, but really tasted like I was eating a handful of cashews. Good, but sad that the caramel flavor wasn't more predominant! 3 1/2 stars
Cashew Butter– this one was honestly pretty bland. It tasted again, like cashews, but a muted flavor, and like raw cashews. Where the flavor of the cashew isn't as strong such as when it's toasted. It was a little stickier and denser than the other bars, and was slightly sweet. Not my favorite. 3 stars
Peanut butter- I had high hopes for this one, since I am a HUGE pb fan! While it does taste like peanut butter, it tastes like a low fat, sweetened peanut butter. If anyone has ever tried that fat free peanut butter, that's what it tastes like. Sweet with a peanut flavor, but not peanut butter-y enough for me. More sweet than savory. Little sad with this one. 3 stars
Sunflower Butter + Chocolate- this one was crunchier and dryer than the other flavors. It has a nice sunflower seed flavor and almost tastes like it's paired with cherries but that is actually chocolate. It's a chocolate based bar rather than chocolate chips or chunks. The flavor of the chocolate is very mild, I wish it was a little stronger. Still good, nonetheless. 3 stars
Cherries + Berries- this is my favorite one. Super sweet and chewy, bursting with dried cherry flavor, but I also taste either strawberry or blueberry flavors. It is mixed with oats for a heartier bar than some of the other ones. This one is higher in carbs and low in protein (1g), but I think it's great for a pre workout snack. 4 1/2 stars
Here's nutritional information for one of the bars- they are "roughly" the same for the other bars, but not exact.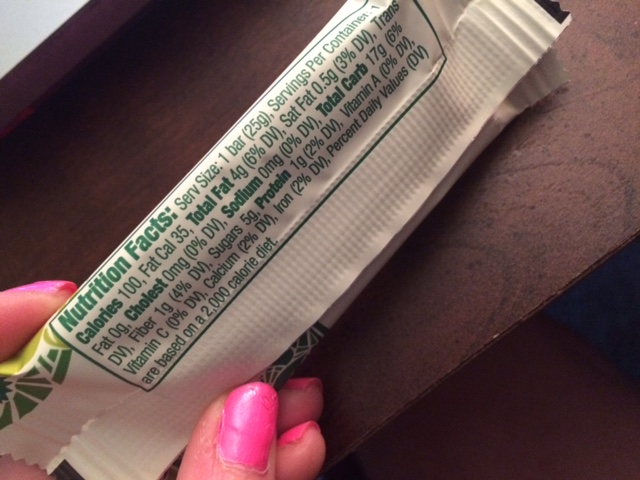 GIVEAWAY!!!!
You can win a case of Macrobar minis!! Open to US AND Canada only (yay!!!!).
HOW TO ENTER:
1. Leave me a comment below stating your favorite bar!
2. [optional, but extra entry ]Tweet about this giveaway with the link, and mention me " @ liisa_tee"
3. [optional, but extra entry]Follow me on instagram for reviews! @lisa_liftsx
PLEASE leave me a comment for EACH thing you do, as each is 1 entry! More entries= more chances to win
Giveaway CLOSES on July 17th, 12 pm.