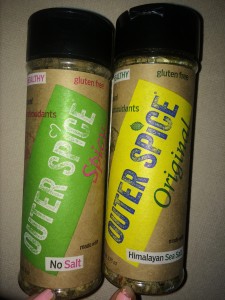 I got these spices to try from Outer Spice! I was sent two varieties, the No Salt Spicy version, and the Himilayan Sea Salt Original blend. They have a retail value of roughly $6.99 each.  They are MSG, GMO and Gluten Free, and made from high quality spices and herbs.
I used these a few times during cooking. We made chicken cutlets with the Spicy variety, and then I used the Original variety for turkey burgers (see below), shrimp garlic stir fry, and grilled chicken with veggies in a butter sauté.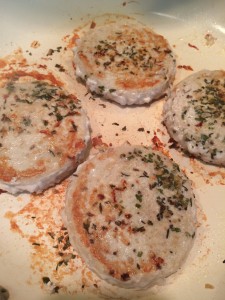 I'll review the Spicy variety first!
It was…not spicy actually!
Again, we made chicken cutlets with this spice mixed into breadcrumb mixture and fried.
I noticed that the thyme flavor was pretty strong. Again, it was not salty- no salt!
The flavor was unique and went well with the chicken but it wasn't spicy, so a bit deceiving! 3 1/2 star
Next up, the Original blend.
It was very thyme-y again, with possibly Rosemary?
Not much other prominent flavors, but will enjoyable.
It went well with the meats, and my favorite was with the shrimp and grilled chicken stir frys. I did add some salt since it was not super salty. 4 stars.
Overall, pretty good and worth a try! I would pick em up and add them to your favorite dishes! If you order directly from their website, there is also FREE shipping! Woo! Click here to get some.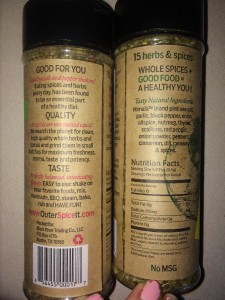 I received this this product for free. This is an unbiased review.