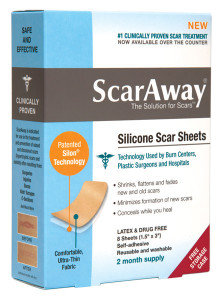 Alright!
So I was given a box (2 month supply) of ScarAway Silicone Scar Sheets to try out. These are drug free and latex free, and helps to minimize the appearance and/or discomfort of scars.
These patches were used on a stretch mark that extended from the chest area to deltoid region. This is a common stretch mark in males who weight train or put on weight quickly. The stretch marks were there for a few years, so I was not expecting miracles, but was eager to see the results.
The patch was worn a minimum of 4-5 nights a week, roughly 10-12 hours a day. Each patch can be worn for 1 week, and then placed in the provided storage case. The box advises 12 hours, 7 days a week. It was worn while sleeping/before bed rather than during the day since it was in a visible area. It was worn for approximately 1 1/2-2 months.
The patch was comfortable, flexible, and non irritating. It stuck well and peeled off easily.It did fall off a few times in the middle of the night, so that is definitely a caveat to using it while sleeping. The scar began to soften by week two.
The end results were not miraculous, but definitely noticeable. The stretch mark was lightened, and felt smoother and like there was less scar tissue to the touch.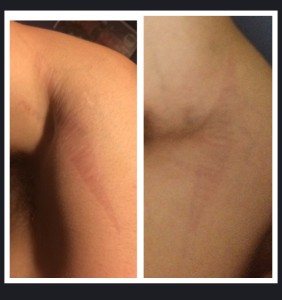 I believe it one rigorously follows the directions for the box, better results may have been achieved. Life gets in the way…a few nights the patch was forgotten to be put on/ fell asleep before patch could be put on. This then resulted in wearing the patch during the day, which disrupted the cycle a bit.
Overall, a good product. A solid 3 1/2 stars. Somewhere in-between there. I would like to see it on more of a traditional scar versus a stretch mark in the future. I also think it would work better on "fresher" scars, or immediately post injury (once healed, of course).
I received this product for free. This is an unbiased review.