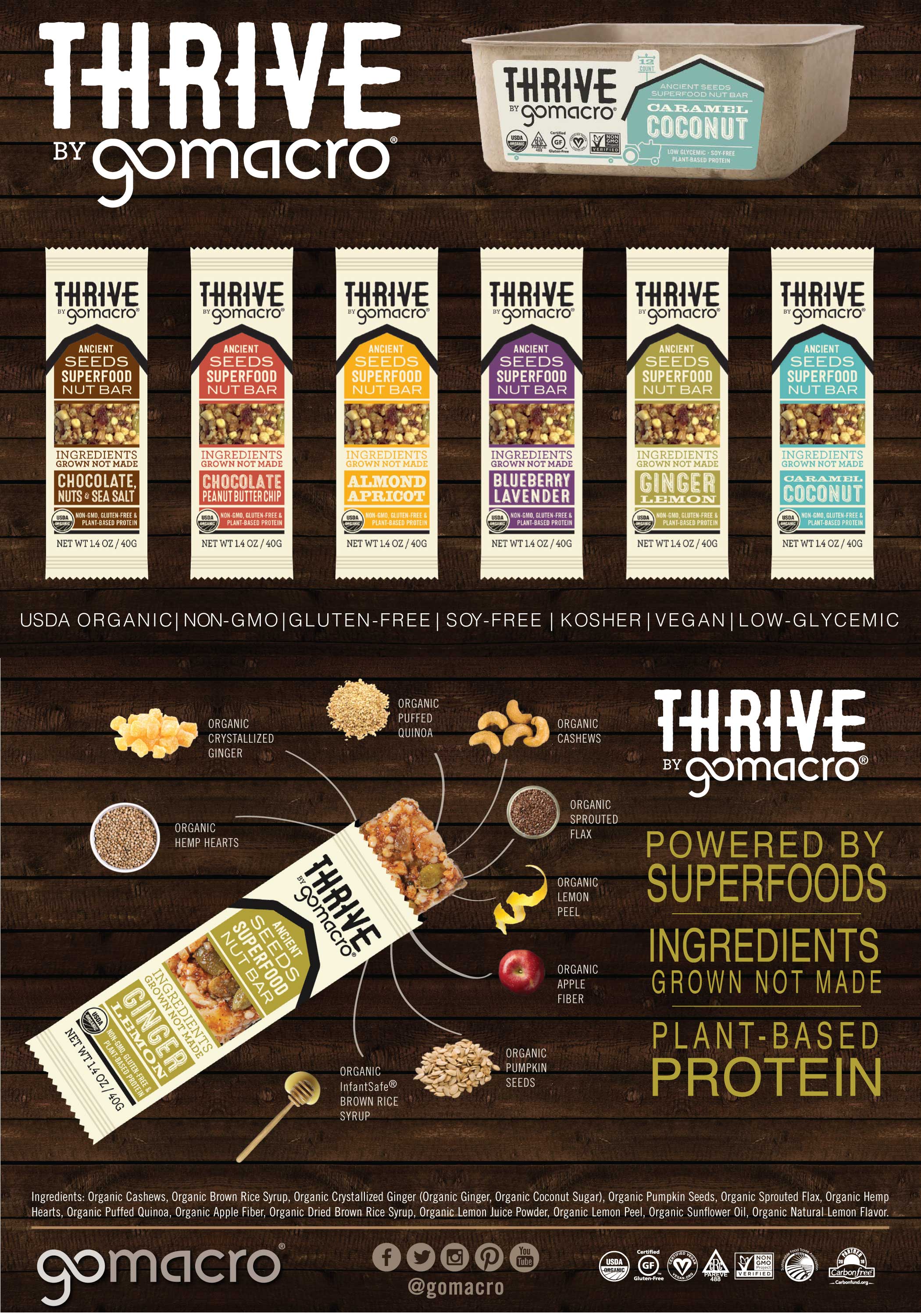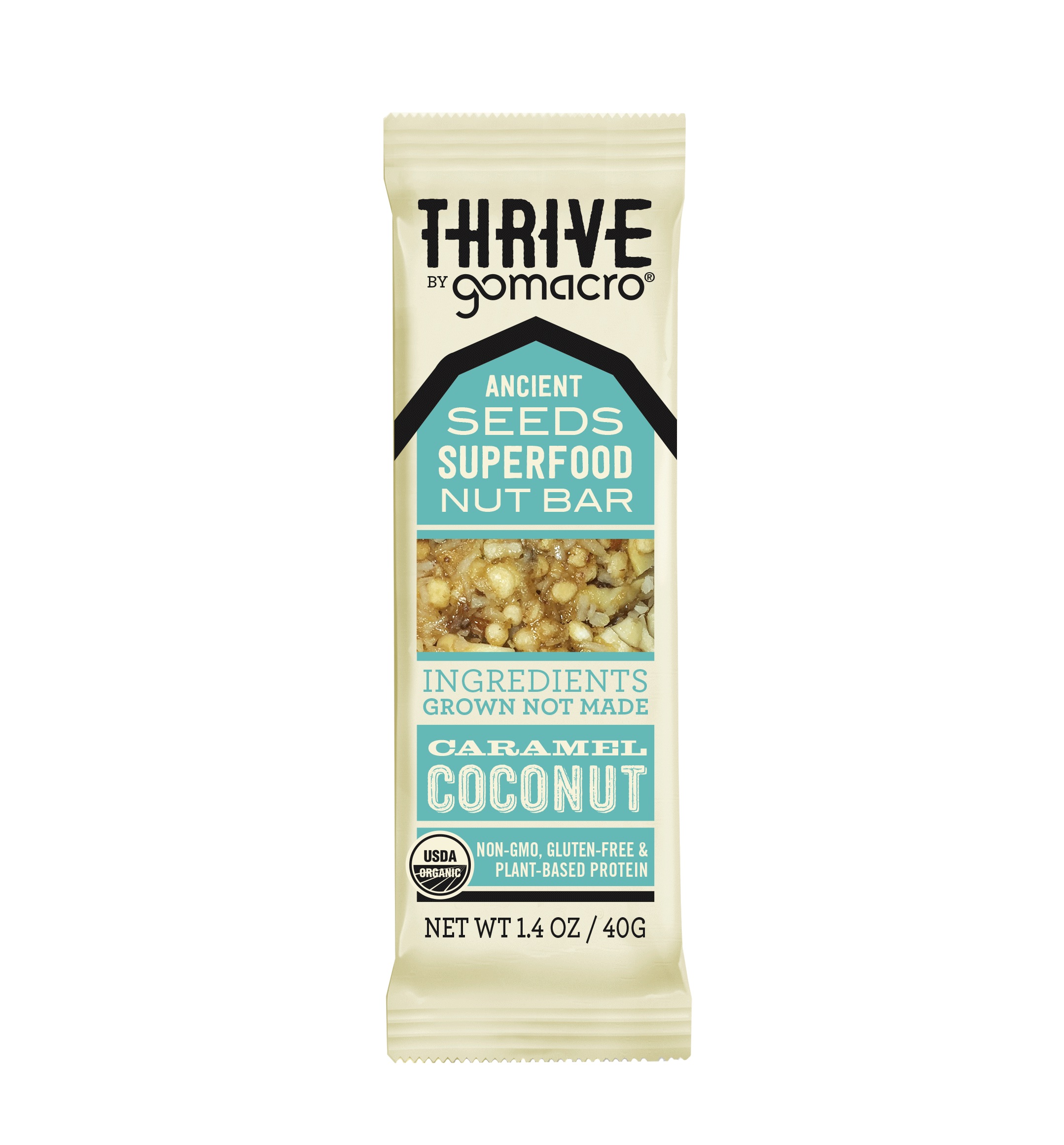 Hi Guys!
Hope you all had a fantastic Thanksgiving. I know I ate too much. But certainly enjoyed all the food, and hope everyone else did too AND enjoyed their family time.
In the spirit of Black Friday, I will be hosting a giveaway today based on this review.
Go Macro sent me a box of bars, the "Thrive" line. These bars are organic, non-GMO, gluten free, soy free, kosher, vegan, and low glycemic.  They come in a variety of flavors, which we will go over below.
The bars more or less had the same texture- dense and chewy. They were hearty and most had a sesame seed and date flavor.
Chocolate Nuts & Sea Salt--> this one was pretty darn good. The chocolate amount was decent– I feel like sometimes when companies add chocolate chips you get like 3 chips for the whole bar and they have the NERVE to call it a chocolate flavored bar… haha, not the case here. The dark chocolate chips are prevalent. The cashew flavor goes well with the chocolate. The sea salt? lacking. Needs more of that, however, still good.   —-4 stars
Chocolate Peanut Butter Chip--> this one was a bit more dense than the others, but very good. A peanut butter base, with peanut butter chips and a hint of chocolate. Picture a peanut butter cup but in a "granola" bar form. So did I like it? Yeah I liked it. Do you like peanut butter cups? Yea? Okay, you'll like this one.  — 4 1/2 stars
Almond Apricot–> this one is pretty good. Seems "nuttier" than the others in flavor, a tad bit more crunchier. The apricot gives a nice sweetness that is scattered throughout the bar, and the almond adds that crispy crunch you sometimes crave in a "chewier" bar. —-4 star
Blueberry Lavender–> lavender… personally I am not a fan of ingesting lavender. Makes me feel like I am eating soap. But I digress…. anyway, this bar was okay. Lightly sweet, slightly bitter aftertaste. The blueberry flavor was prominent, and lavender had a hint. I think the flavor overall was a bit flat and almost needed a pinch of salt.    — 3 star
Ginger Lemon–>The ginger in this bar was mild, but prevalent, and went really well with the lemon flavor. I happen to be a fan of ginger, and the "burn/spice" you get from ginger was not present, which is good for those who don't enjoy ginger, however I felt myself missing that.  However, it was a great combo and almost reminded me of a cookie. But again, I felt it was a bit flat/missing something.  —- 3 1/2 star
Caramel Coconut--> my personal favorite, wish I could order a box of just these. It was super, super yummy! Lightly sweetened with coconut and a mild caramel flavor, but went oh so well together. Reminded me of these coconut condensed milk brownies my mom makes for the holidays. The coconut flavor shines through and overall, a delicious bar.  — 4 1/2 stars
You can try these bars 30% off with the promo code THRIVE30  here!
GIVEAWAY!!!!
You will win 1 box of assorted Thrive bars! 🙂
TO enter….
1) you must like Go Macro on one of their social media outlets. Please leave a comment below telling me which outlet you used (IG, Twitter, FB, etc.)
2) If you do not have any social media, you may leave a comment below saying which bar you would like to try the most.
3) for an additional entry, follow my fitness/blog IG at lisa_liftsx. Leave a comment saying you did so!
U.S. only. Giveaway closes 1 week from today, December 2nd, 12 pm.
disclaimer: I received these bars for free. This is an unbiased review.