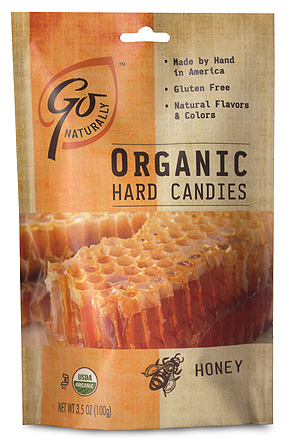 We all love candddddyyy. Problem is- most candy doesn't love US. It's usually full of High Fructose Corn SYrup, color additives and refined sugar. LUCKILY, I found a brand of candy (Hillside Candy) that has a line GO Naturally, that produces "better-for-you" candy. Not only are they gluten free, they are organic, free of high fructose corn syrup, additives and artificial colors and flavors. They also don't have refined sugars, and are sweetened with cane juice and brown rice syrup instead.
They come in 6 flavors, all of which I got to try. Apple, Cherry, Ginger, Honey, Honey Lemon and Pomegranate. Each of them are about the size of a nickel, and width wise about 4 nickels piled on top of each other. They lasted pretty long (as long as you don't bite them!) and had a smooth texture.
Apple– this one had a "light sour apple" flavor. It wasn't too tangy, but still had a granny smith tartness to it. It was nicely sweetened. 4 stars
Cherry- i like how this one wasn't red as i expected. most cherry flavored things are red-  but this one was brown, like all the rest (no artificial dyes-woop!). It reminded me of the cherry flavored tootsie pops. Yum! 4 stars
Ginger-eh. I really didn't care for this one. At first it wasn't bad- it was a sweeter and milder version of a ginger flavor. I like ginger too- i enjoy those Ginger Chews which some people say are too spicy, but I enjoy. My mom, however, loved the ginger flavor of the  hard candy. Just not my cup of tea. 3 stars
Honey-yuuuum. Sweet, light and flavorful. Tastes like I was actually eating honey in "drop" form. smooth and delicious! 5 stars
Honey Lemon- this one tasted like the Honey flavor too, but, well, with a hint of lemon! It was nicely blended though, not too tart from the lemon and the perfect amount of sweetness from the honey. I can see myself having these especially when I have  a cold. 4 stars
Pomegranate- light and sweet. not tart at all, and i almost detected a hint of lemon blended with a milk pomegranate flavor. Delicious. 4 stars
Overall, these were definietely yummy. I would definietly buy the apple and the honey varieties especially if i saw them in stores by me, as those were my two favorite. They are a nice change on the traditional sucking candy, and as a whole, they deserve 4 stars for taste and nutrition. Good job Hillside! (and thank you for providing me some samples to try!) I would like to try other candies by Hillside, such as the GoLIGHTLY sugar free blends and the Hillside Sweets, sweetened with sugar.
4 pieces are 60 calories, 0 grams of fat, 15 carbohydrates, 0 grams of fiber, 10 grams of sugar and 0 grams of protein.
The ingredients are mostly organic evaporated cane juice, organic brown rice syrup, citric acid, and natural flavors.
DONT FORGET ABOUT THE HOLEY DONUTS! and CASH giveaway! Just pop them an e-mail with my blog name/website in the subject line, and win some donuts and 150$ cash! All rules and entries are HERE!