So. Yesterday I made the most mouth watering, DELICIOUS and HEALTHY chocolate carob chip cookies! Not too much sugar (yay!) I made some swaps with some ingredients that the PANOS brand sent me-Instead of  brown sugar, I used Chatfield's Date Sugar, and I also used Chatfield's Carob Chips in place of chocolate chips (but you could certainly use chocolate chips).
Look at these!…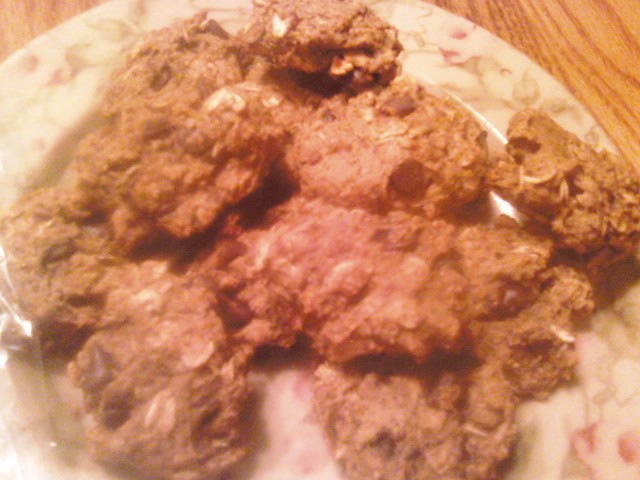 They are "puffier" cookies- so if you like them flatter, you can use the backside of a spoon before you bake them to flatten them out. They came out rich and buttery tasting- I couldn't even tell the swap for the date sugar for brown sugar! The carob chips also had a sweet, vanilla taste. It was a nice change from the traditional chocolate chip, although next time I think I will use all natural chocolate chips.
Either way… I already ate 3 😉
Onto the individual components…
Date Sugar-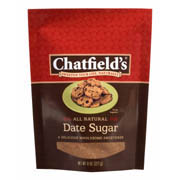 The sugar itself is actually a purpley-brown color, and has a grainy consistency. By itself, I tasted a little bit, and it did taste like brown sugar, but wasn't identical. However, I couldn't tell the difference once the cookies were baked
According to the package, "unlike refined sugar and sweeteners, where vitamins and minerals are stripped during refining, the simple drying process maintains the naturally occurring nutrients found in dates". Sweet & healthier-nice!
1 tsp is 10 calories, 0 fat, 3 carbs, 0 fiber, and 0 grams of protein.
Carob Chips-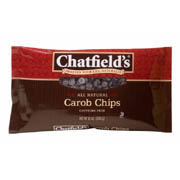 these are smaller in size then regular chocolate chips, but really plumped up a bit when I cooked them. Raw, they taste slightly like cocoa at first, and then they are sweet once it melts in your mouth. It's a different experience, but I like them. I found myself popping them in my mouth as I was baking. Cooked- they also have a different taste. Definetely sweeter, and with a bit of vanilla flavoring. One of the chips was baked alone (it got separated from the dough!) and actually sizzled when I removed the pan from the oven- bizarre!
2 Tbsp. is 80 calories, 4.5 grams of fat, 10 grams of carbs, 0 grams of fiber, and 0 grams of protein.
Beet sugar, palm kernel and palm oil, carob powder, soy lecithin (an emulsifier).