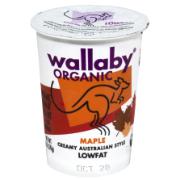 Ahhh, yogurt. One of my favorite foods that I would seriously DIE without. I've had so many different types of yogurts- plain, flavored, fruit on the bottom, greek, "diet" (YUCK), and now Wallaby Yogurt brings me an organic version that is a Creamy Austrailian Style Yogurt.
Australian? Whhhhhat? Well, the company was founded in 1992, when the founders Jerry and Faith went to Australia on vacation. While they were there, they discovered yogurt, and decided to make their own factory back in the United States and name it after the place they came up with the idea- Wallaby Yogurt.
Wallaby Yogurt makes nonfat, lowfat and fruit on the bottom flavors, called "Down Under". There is a cute Wallaby named Joey who I would assume is the mascot of the company (he really is adorable!) I have tried the Down Under Strawberries & Cream flavor once before, and it was AWESOME, so I was excited to try a flavor I spotted at my local Whole Foods- low fat Maple.
I loooove Maple. Maple sMapleyrup. Maple cookies. Mighty Maple Peanut Butter (made by PB&CO). So  YOGURT must be good, no?
So I bought two of these (I like to have things a couple times before writing anything about them), and dug into one when I got home. The texture is a little runnier than the yogurt I'm used to. For example, Stonyfield Farm has yogurt that has a bit more body to it. But, perhaps this is just the way Australian yogurt is supposed to be? The flavor, however, was very good. More than just a subtle Maple flavor, it was sweet but not overpowering. It had a smooth feel to it, and just a hint of vanilla flavor. It was delicious, in fact. I was also happy to discover that the sweetener was evaporated cane juice and maple syrup instead of refined white sugar, or artificial ASPARTAME or SUCRALOSE (yucky).
The second time I tried it, I popped it in the freezer for a half hour or so. What a difference it made! The yogurt thickened up a little, and it was like my own little frozen treat. Absolutely delicious with sliced bananas and waffles (with just a drizzle of maple syrup, of course 😀 )
Overall, I give it 4 stars. The taste is really delicious, sweet without being too sweet. I wish it was a bit thicker in consistency (for those of you who are die hard greek yogurt fans, you will be surprised by this variety!), but overall a very good yogurt. I will buy this one again, and I'm excited to try the other flavors, especially more of the Down Under varieties.
1 yogurt cup (6 oz) is 140 calories, 2.5 grams of fat, 24 carbohydrates, 0 grams of fiber and 6 grams of protein.
Organic Cultured Pasteurized Reduced Fat Milk, Organic Evaporated Cane Juice, Organic Maple Syrup, Natural Flavor, Organic Locust Bean Gum, Pectin, Organic Lemon Juice Concentrate.
chhheck out this nutty giveaway!