Immaculate Baking Company is a great company that produces all natural & organic cookies, brownies and other treats.  They also produce all natural and organic doughs for you to bake your own goodies!
The company sent me a coupon for a free product to try, so I picked up the natural Chocolate Chunk cookie dough. It was 24 pre-cut squares of dough, that all you had to do was set your oven to 350 degrees F, separate, place & bake for 10-14 minutes. Easy, enough, no?
Well today I was craving some chocolate chippers, so I pulled my pre-made dough out of the fridge. Each dough ball was round in shape, thick, and only about an inch and a half in diameter. There weren't really chocolate chunks per se, more like your standard chocolate chips. I reccommend letting them thaw a few minutes before separating, as a few of my pieces broke in half as I tried to separate each ball. One thing that was weird is that you can fit 20 of them on a pan, which leaves you with 4 left over (at least with the pan I used). I ended up just throwing the other 4 out because I couldn't be bothered to wait 15 mintues for 4 cookies. When they were done baking, they turned a nice golden brown, but didn't really spread out much at all. They were small!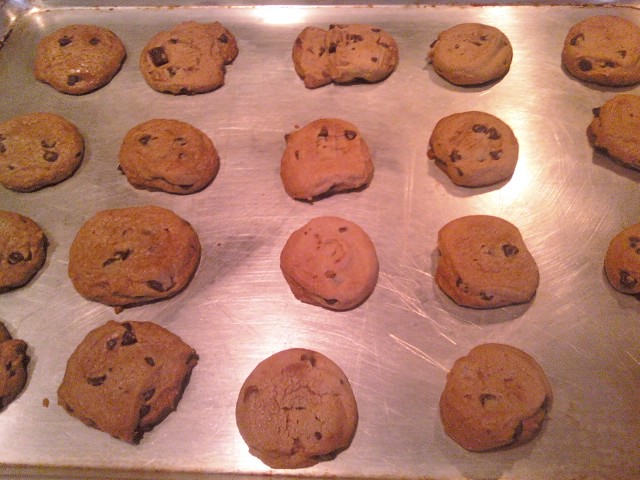 The taste, however, is where it's at. These were yummy! Similar to place & bake toll house cookies, but not as sweet. They had more of a brown sugar and vanilla taste, and I think I even detected a hint of maple flavoring. Yum! I could easily down a few of these!
Overall, these get 4 stars. They are tasty, but they are TINY!! The positives is that they are all natural, have no trans fats, and the company promotes "Cookies With a Cause". This particular brand gives back to others, sucha s donating to charities or art supplies. Nice! The negatives however, is that there is NO fiber (made with unbleached wheat flour), has 2 grams of saturated fat per tiny cookie, and contain palm oil, one of the rather unhealthy oils.
Otherwise-if you need a place & bake chocolate chip cookie- look no further!These are trans fat free, and help out other causes, as well as delicious. Give em a try! 🙂
1 cookie is 80 calories, 3.5 grams of fat, 11 carbohyrates, 0 grams of fiber and 1 gram of protein.
Unbleached, Unbromated Flour (wheat flour, malted barley flour, niacin, reduced iron, thiamine mononitrate, riboflavin, folic acid), Chocolate Chips ( sugar, chocolate liquor, cocoa butter, soya lecithin, vanilla extract, ground cocoa beans), Light Brown Sugar, Palm Oil, Whole Eggs, Sugar, Invert Cane Sugar, Chocolate Chunks (sugar, chocolate liquor, cocoa butter, chocolate liquor processed with alkali, soya lecithin, salt), vanilla, water, sea salt, baking soda, baking powder.
dont forget about my giveaway to win some CHEESE PUFFS over here!!