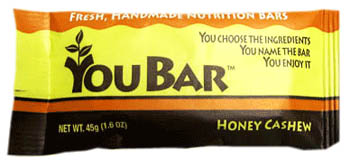 How awesome would it be to make your OWN energy bar? Or your own protein shake, trail mix, cookie or cereal?! Well, YouBar let's you do JUST that! You get to pick the ingredients, which means you can control the nutrition, fat, calories, etc., the company makes it and ships it for you, and you get to enjoy it! You can even name your own product! How AWESOME is that?
Aside from making your own products, you can also purchase some that are already made. YouBar sent me a few of their already made products to try that seem to be popular among buyers. Of the samples I was sent, I got a Honey Cashew Bar and the Blended Bliss Protein Shake.
Honey Cashew Bar- Yummy! This one is a pretty dense bar, and surprisingly crumbly in texture. You can DEFinietly taste the cashews- my favorite nut!! The sweetness of natural cashews is just awesome, and it shines through in this bar. It was lightly sweet, I didn't taste much honey flavor. The bar was a bit pasty and dry, but not bad. Keep a glass of water nearby and you'll be good. There is also a slight raisin aftertaste. I give it 3 1/2 stars!
 I let my brother try the Blended Bliss Protein Shake ( I did taste a little!), as he is the muscle head of the family and goes through protein shakes like crazy. I figured he would be a good candidate to judge! He said he mixed it with milk, and reccommends using a blender as he didn't at first and it was a bit "piecy". Overall he said he liked it! I licked the powder off the remaining packet and tasted a tangy strawberry and banana combination. Good mixture of sweet & tangy. I also liked there was no refined sugar. Woop!
So what are you waiting for? You can make your own bars, shakes, cereals, cookies & cereals right now! I think this is a great way to have a little fun, watch the ingredients and nutrition you consume, and even feel "famous" by naming your own creation. Sweet! I want to try the Great Date with Chocolate bar and some of their popular cookies! (Hey, I want to create some goodies too! It's so much fun!)
Honey Cashew– 1 bar is 220 calories, 13 grams of fat, 16 carbohydrates, 1 gram of fiber and 10 grams of protein. It also provides 30% calcium needs!
Cashew Butter, Honey, Whey Protein, Nutty Rice Cereal, Organic Honey.
Blended Bliss– 1 packet (30 grams) is  110 calories, 1 gram of fat, 13 carbohydrates, 0 grams of fiber and 14 grams of protein. This also provides 80% calcium needs. Pair that with a glass of milk and you hit your quota for the day!
Whey Protein, Organic Cane Juice, Organic Strawberries, Organic Bananas, Organic Vanilla.