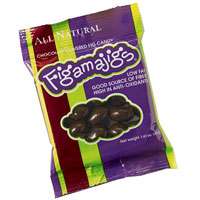 What's a Figamajig!?
Figamajigs are a different way to enjoy candy, according to them, it's "A Healthy and Delicious Way to Enjoy Chocolate". What could be so healthy about chocolate? Well, these candies are all natural, provide fiber & antioxidants, and are relatively low in fat. They make both bite sized candies and fig bars covered with delicious chocolate. The company sent me some of their goodies to try, and I picked the Dark Chocolate Covered Fig Candy to do a review on.
Now, I'm TOTALLY a Raisinette girl. When we go to the movies, my friends get the popcorn and the nachos, and I get the Raisinette's candy. It's my way of eating a "healthy treat" while still indulging. Hey, raisins are FRUIT! So I was super excited to see these. First of all, each bag (40grams) provides a hefty amount of tasty chocolate covered fig pieces. Do NOT be turned off by the word "fig". I know you're probably thinking fig= prunes= grandma candy. Uh, NO. These are actually quite good!
Each piece is actually pretty big, if you ever ate the Peanut Butter flavor of the M&M's, they are about that size. If not, they have the same size of I'd say a dime, but VERY thick! There is a decent amount of smooth and rich dark chocolate coating every fig piece. You can't even really taste the fig- it tastes just like raisins to me!  The fig piece was a bit chewier and grittier than raisins, but still quite good. They were sweet, but not overpowering, and I actually really enjoyed these. Each bag that provides about 20 or so pieces is only 150 calories and  4 grams of fat. How's THAT for kicking a chocolate craving!
Overall, as far as candy goes, 4 1/2 stars for sure. Antioxidants- check. Fruit- check. Fiber- check. CHOCOLATE-check! Can we say, perfect snack? 🙂 Yes, there is added refined sugar, but I mean it is candy, and FAR better than some other candies you can buy! I can only imagine the possibilities with these- I'm thinking mixed in with Chobani or greek yogurt, or with a trail mix, or even slightly warmed with buttery popcorn (all natural, of course!) . Yum!!
1 bag (40 grams) is 150 calories, 4 grams of fat (2 saturated), 29 carbohydrates, 3 grams of fat, and 2 grams of protein. They even provide 6% of your daily needs of calcium and 15% of your daily needs of Iron.
Figs, Dark Chocolate (sugar, chocolate liquor processed with potassium carbonate, cocoa butter, butter oil), Soy Lecithin, Pure Vanilla, Cocoa, Sugar, Rice Flour, Invert Sugar, Natural Flavor, Cream of Tartar, Canola Oil, Salt.