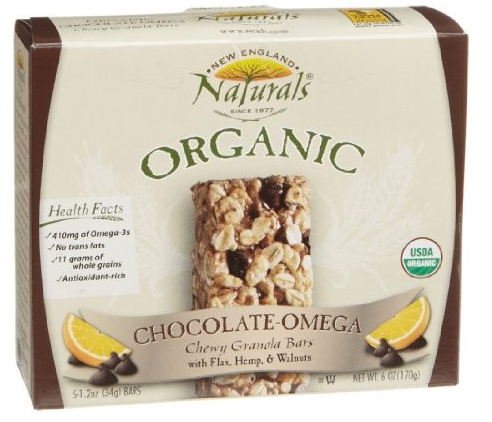 New England Naturals is a new company for me. But after doing some research on their website, I discovered it truly is a great company. Not only do they make all of their products kosher and organic using on the finest ingredients, they also donate 10% of their profits to organizations  that also do business in an environmentally and socially responsible way.
They make a variety of products, such as all natural granola bars, granola & trail mixes. The company sent me a few of their products to try, so I decided to try the Organic Chocolate Omega Chewy Granola Bar. Each bar is designed to help in different ways- According to the website, " Whether it's slowing down the aging process with our Antioxidant Bar, promoting digestive health with our Maple Nut Fiber Bar, or saving brain function with our Chocolate Omega Bar, your health is what's important! " Cool! So, I'll be helping my brain out by eating  savory chocolate–  I can get used to that 😉
The bar was about the size of a Quaker Chewy Bar, maybe a little bit bigger, and had an oaty appearance with chocolate chips dispersed throughout. It was soft and chewy, and fell apart easily. Seeing as the second ingredient was brown rice syrup, I would imagine why it had a little bit of give to it. Upon the first bite I tasted orange zest. Weird? Maybe. But I liked it. Ever have one of those "chocolate oranges" that you have to unwrap and then hit on the table for the "pieces" to come apart? And then you ate a "chocolate orange wedge"? I  HOPE someone knows what I'm talking about so I don't sound crazy- but pretty much that's what it reminded me of. A unique flavor combination of orange and chocolate. I would have preferred a bit more chocolatey flavor, including chocolate was in the name, but it was still pretty good. It was nice and sweet, too.
Overall, 4 stars. The nutritional stats are actually quite good, and the taste is unique and worth giving a shot. Each bar provides 410 mg of Omega-3s, has antioxidants, and provides at least 11 grams of whole grains. I like that there is flax meal, walnuts and hemp seed in this bar as well. Health benefits!! It loses some points because it's not that filling on it's own, but I do think it's a good light snack paired with a glass of milk or some fruit. There is also naturally milled sugar listed in the ingredients. The bars also come in two other flavors, Maple Nut  and Antioxidant Bar.
1 bar is 140 calories, 4 grams of fat, 25 carbohydrates, 2 grams of fiber, 11 grams of sugar, and 3 grams of protein.
Organic whole rolled oats, organic rice syrup, organic crisp brown rice with organic rice syrup, organic tapioca syrup, organic naturally milled sugar, organic chocolate chips (organic sugar, organic chocolate liquor, organic cocoa butter, organic soy lecithin, organic vanilla), organic apricots with organic rice flour, organic flax meal, organic walnuts, organic hemp seed, organic soy fiber, organic expeller pressed canola oil, organic orange flavor.
*Note: I'm going to try to include sugar grams per serving of products I review- Seeing as we live in a sugar-crazed world, it's good to see how much of what you are consuming is sweetened!- But please don't be mad if I forget 🙂