Nut free trail mix? What's THAT !?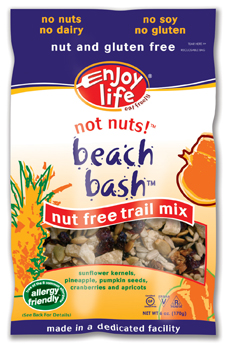 Well, Enjoy Life is a company notorious for producing allergy friendly foods. As part of their product line, there are the gluten free, nut free, dairy free, soy free, and egg free Trail Mixes in Mountain Mambo and  Beach Bash flavors.
Enjoylife asked if I would do a review of these, and how could I turn it down? I can see myself a trail mix girl- I like some sweet & salty combos, and I'm a fan of dried fruit. Sure, I'll try it ! 🙂
So, Enjoylife sent me 1 bag of each Mountain Mambo and Beach Bash Trail Mixes. I tried the Mountain Mambo first- according to the website, this trail mix is "Made with sunflower seeds, pumpkin seeds (pepitas), fruit and chocolate chips, our nut-free trail mix is both wholesome and delicious."
I noticed there were TONS of raisins in the bag- really, if you are a raisin fan, try this trail mix! There was also little bits of dried apple, which were chewy, but didn't provide much flavor. The cranberries were tart, but only a few in the bag. There was, however, also a TON of seeds! They added a nice crunch to the otherwise softer textures in the bag. One thing also lacking was the chocolate chips. The picture on the website depicts a lot of mini chocolate chips, but my bag was lacking. Aw, man! Don't scrimp on the chocolate!! 🙁 3 1/2 stars
Next, was Beach Bash. I liked this one much more. I love, love LOVED the bits of pineapple! Not tart in the least, they weer soft and chewy and soooooo delicious! I wish EnjoyLife sold a bag of just the pineapple! The apricot, however, was super tart, and counteracted the sweetness of the dried pineapple. There was a ton of sunflower seeds in this one, which also added good crunch and flavor. I can see myself snacking on this one at the beach 8) 4 stars
Overall, I think you should try these, and especially reccommend the Beach Bash flavor. They are good for a boost of protein and fiber, as well as some healthy fats, and have some yummy sweet flavors as well.
Mountain Mambo- 28 grams is 140 calories, 8 grams of fat, 12 carbohydrates, 2 grams of fiber, 9 grams of sugar and 5 grams of protein.
Raw Sunflower Kernels, Roasted Hulled Pumpkin Seeds (Sunflower Oil (Sunflower Oil, Citric Acid), Salt), Raisins, Dried Apples, Chocolate Chips (Evaporated Cane Juice, Chocolate Liquor, Non-Dairy Cocoa Butter), Cranberries.
Beach Bash- 28 grams is 130 calories, 7 grams of fat, 13 carbohydrates, 2 grams of fiber, 9 grams of sugar and 4 grams of protein.
Raw Sunflower Kernels, Pineapple, Roasted Hulled Pumpkin Seeds (Sunflower Oil (Sunflower Oil, Citric Acid), Salt), Cranberries, Apricots