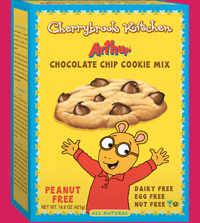 Time for me to bake, er, bake and review, some cookies! : )
Another box of baking mix I recieved (please see previous post) for free was the Cherrybrook Kitchen Chocolate Chip Cookie Mix. This mix, according to the front of the box, was vegan, dairy free, egg free, and nut/peanut free! What I also enjoyed was the front of the box had Arthur on it- one of those cartoons I remember watching as a kid! I could just feel this was going to be one of those nostalgic baking experiences!
So, I took out 1/2 cup of butter, 1/4 cup of water, and the mix, and put it in a bowl. I started to mix with a spoon and smelled the delicious chocolate aroma- ooh, I was getting HUNGRY! I  saw there was a lot of chocolate chips, that were rather large too, and was impressed!
As I was mixing, I did notice it was a bit crumbly and dry, so I decided to add a little more water as I was having difficulty stirring it. Then, I decided to just mix by hand, which was convenient since the next step was to roll these cookies into small balls.
After baking, I saw that these cookies did not spread out as I had expected them too- they rather "puffed up". Normally when I bake cookies, I space them far apart expecting them to expand in a circle. With these, they expanded a little, but mostly rose up.
But, that didn't affect the taste! They sure were good- buttery rich tasting and sweet but not too sweet. Since there was a lot of chocolate chips, they also had a good chocolatey flavor. They also became crispy and crunchy cookies, rather than super soft cookies. I do prefer soft chocolate chip cookies over crunchy or hard, but these were still enjoyable. I can see myself eating these with a nice glass of milk! 4 stars
Have you ever watched Arthur? Or what was your favorite cartoon growing up? If you'd like to answer, please leave a comment below! 🙂
Ingredients in mix: Unbleached Flour (wheat flour, malted barley flour, niacin, reduced iron, thiamin mononitrate, riboflavin, folic acid), Evaporated Cane Juice, Granulated Brown Sugar, Non Dairy Chocolate Chips ( sugar, chocolate liquor, dextrose, cocoa butter (no dairy derivatives), soy lecithin, pure vanilla extract), All Natural Vanilla Flavor, Non-Alluminated Baking Powder, Sea Salt.