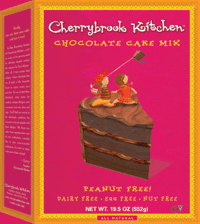 Who likes CAKE? I know I do! : )
Cake is great. For birthdays, bake sales, or even just to bake for fun (like I often do!). I was given a box of Cherrybrook Kitchen Chocolate Cake Mix to try, and I was very excited. This cake mix was a bit different than ones I have used in the past- according to the front of the box, this cake mix was all natural, vegan, dairy free, peanut/nut free, and egg free!  I also thought the front of the box was adorable- it looked as if there were two cartoon children standing on top of a piece of chocolate cake, flying a "piece of chocolate cake kite". Adorable!
What I noticed first after reading the instructions, was that this cake mix was made to make either 12 cupcakes or one 9-inch cake. I decided to use a pan instead of cupcakes, as I wanted to cut them into squares when I was finished. I also decided to swap 1/2 cup of applesauce for the 1/2 cup of vegetable oil that was called for. I sometimes do this when I bake breads or cakes- I can't tell the difference!
I poured the cake mix, water, and applesauce in a bowl. The cake mix itself looked like a soft brown cocoa powder, and smelled absolutely delicious- just like a chocolate bar. I started mixing, and was puzzled at first. Why aren't these bumps going away? Then- surprise! They were chocolate chips! I had no idea they were in the cake mix!
Then I poured the cake batter, which was a good consistency- easy to pour- into my pan and put it into the oven. When it was done cooking, it certainly puffed up! They were a deep chocolate brown, with "crispy-type" edges bordering the pan.
After letting them cool, I tasted a piece- these weren't bad!  I tried another piece the day after, and noticed that they were much more like brownies than cake- as in they were quite "fudgy" in consistency and flavor! The chocolate chips added a nice touch too! Sweet enough as is, I didn't even need to put frosting on my piece to enjoy it. I really liked the edges of the cake- they were slightly more chewy and crispy than the rest of the cake- but still yummy! Overall, this product gets 4  stars. Pretty good, and easy to make! : )
Unbleached flour [wheat, malted barley flour, niacin, reduced iron, thiamine mononitrate, riboflavin, folic acid], evaporated cane juice, non-dairy chocolate chips [sugar, chocolate liquor, dextrose, cocoa butter (no dairy derivatives), soy lecithin, pure vanilla extract], natural cocoa powder, all natural vanilla flavor, baking soda, sea salt.