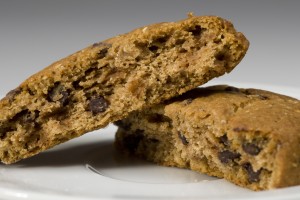 Will I ever get bored of doing cookie reviews?
…NOPE! : )
I recently reviewed Penny's Low Fat Desserts White Chocolate Cranberry cookie, and thought it was great. Penny's Low Fat Desserts also sent me the Chocolate Chip variety to try. Does the Chocolate Chip cookie meet the same delicious expectations?
Of course!
Chocolate Chip– the first thing that came to my mind when I tried this cookie was, This cookie is SWEET! Normally I like a balance between sweet and rich flavors when it comes to chocolate chip cookies- but this I must say, was still very enjoyable! It was soft and moist, with a delicious taste of vanilla. I also liked how it had an almost buttery taste- amazing considering there is only THREE grams of fat per 1.8 ounce cookie! The chocolate chips were quite tasty as well- reminded me of eating a sweet chocolate candy bar. The only reason this cookie doesn't get 5 stars is because the first ingredient is sugar. Otherwise, it's a must-try treat!! 4 1/2 stars
1 cookie is 150 calories, 3 grams of fat, 38 grams of carbohydrates, 18 grams of sugar, 7 grams of fiber, and 2 grams of protein.
sugar, whole wheat flour, water, semisweet chocolate chips (sugar, chocolate liquor, cocoa butter, dextrose, soy lecithin), oats, dried plum puree, cellulose, erythritol, chicory root, corn syrup, rice syrup solids, natural flavors, palm oil, baking soda, salt, xanthan gum, sodium alginate, guar gum.