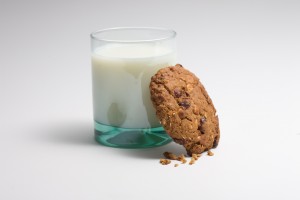 Penny's Low Fat Desserts is a favorite here on HealthNuttxo. I haven't met a product I haven't liked- ranging from muffin tops, muffins and even no sugar added cookies! Another favorite of mine to add is now the White Chocolate Cranberry Cookie, which was sent to me to try from Penny.
At first glance, I was quite pleased. A decently sized cookie- and quite thick too. I tasted this cookie and was equally as happy. It had a fruity taste, which I would imagine is from the "dried plum puree" listed in the ingredients, but also reminded me of an oatmeal raisin cookie. However, instead of raisins, were sweet and not-to- tart cranberries. I was actually quite happy the cranberries were not tart, as I usually am not a fan of cranberries for that reason. Not the case here! They were sweet and just plain good!
Onto the best part of the cookie… the white chocolate chips. WOW! Soooo goood! Creamy and sweet, they added an unexpected and yummy twist to the cookie. They even had a slight crunch to them which was quite nice.
Overall, this cookie gets 4 1/2 stars. It is very sweet, with sugar being the first ingredient, but I really think it's good, especially if a sweet tooth needs some satisfaction! I do like that this cookie has 7 grams of fiber per cookie- it's a snack that has some satiety and can keep me full until dinner! 🙂
1 cookie is 150 calories, 2.5 grams of fat, 39 carbohydrates, 7 grams of fiber, 21 grams of sugar, and 2 grams of protein.
sugar, whole wheat flour, water, white chocolate chips (sugar, cocoa butter, whole milk powder, nonfat milk powder, soy lecithin, vanilla, natural flavor), dried cranberries, oats, dried plum puree, cellulose, erythritol, chicory root, corn syrup, rice syrup solids, natural flavors, palm oil, baking soda, salt, soy lecithin, xanthan gum, sodium alginate, guar gum.