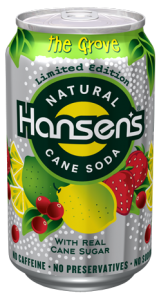 I'll be honest, I'm not a big soda drinker. I prefer water/flavored water, juices or milk for my beverages, but every now and then I DO get a craving for and iced cold soda.
 So, I was excited when I was given some soda from Hansen's, like the Hansen's Natural Cane Soda in The Grove flavor. According to the can, this has "no caffeine, no preservatives, no caffeine, no sodium" and has "all natural flavors". Sounds like my kind of soda! 🙂
First of all, I really liked the design of the can. It was very almost tropical looking, with leaves, and bright colors like pink, yellow and green. I'll be honest- it was quite pretty!
So I opened up the can, and took a sip. At first I was a bit surprised, I actually expected it to be sweeter than it was, which actually I didn't mind. It was very light and fruity tasting, with lemon-lime and strawberry flavors. I think it's a really good soda for the summer because it is very light and refreshing. Overall, I'm giving it 3 1/2 stars. Although it's not something I would drink everyday, I think it was a refreshing and very nice tropical tasting treat. 🙂
1 can is 140 calories, 0 grams of fat, 35 grams of carbohydrates, 34 grams of sugar, and 0 grams of protein.
Pure Triple Filtered Carbonated Water, Sugar, Citric Acid, Natural Flavors with Extracts of California And/Or Florida Limes and Lemons, U.S. Strawberries and Yumberries.