* Zevia giveaway ends SUNDAY! *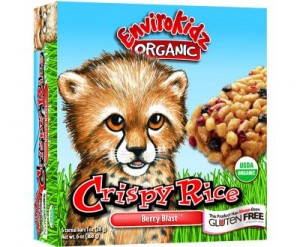 Along with the Peanut Butter Crispy Rice Bar I was sent from Nature's Path, they gave me a few others, including the Berry Blast and Peanut Choco Drizzle bar. These bar is also gluten free and organic, and feature yet more cute animals on the front! The Berry Blast has a cheetah- and an adorable one at that! And the Peanut Choco Drizzle has a Lemur. I can see kids totally loving this cute little animal on the packaging : )
I also found out from the back of the Berry Blast bar's packaging that "1% of EnviroKidz sales are donated to conservation groups like Wildlife Trust". That's awesome!
Now, onto the Berry Blast bar itself…
A good sized bar, pale in color, and looks like a ton of pieces of puffed rice with few sporadic blueberries and red berries (which after looking at the ingredients, I found out were raspberries). The bar smells sweet- fruity and marshmallow-y (if that's  word..) at the same time.
The bar was chewy and light, with certainly a fruity taste. It was almost a bit of a sour/tangy fruit taste, sort of reminding me of freeze-dried strawberries. The blueberry pieces were better- sweet and tasty. Although it was a bit of an odd taste, I actually kind of enjoyed it. I can see kids liking this fruity bar as well. I also liked that it wasn't super sticky! It did lack fiber and protein, but only has 7 grams of sugar and 110 calories for a 28 gram bar. Not too shabby! 4 stars
Peanut Choco Drizzle-
Oh wow this one was TASTY! Peanut butter + chocolate are always good in my opinion, and this one sure did NOT disappoint! Sweet and slightly salty peanut butter tasting bar (the crispy rice part) with a sweet chocolate layer on top, that tasted like milk chocolate. They only thing I was disappointed about was I wanted a thicker layer of chocolate on top of my bar! 🙂 There were also little peanuts scattered throughout the bar, which added a nice little crunch and a peanut-ty taste!  Although not very filling on it's own, I had this with my lunch as my treat and was certainly satisfied : )  4 1/2 stars
Berry Blast-
1 bar (28 grams) is 110 calories, 3 grams of fat, 21 grams of carbohydrates, 1 gram of fiber, 7 grams of sugar, 1 gram of protein.
Organic Brown Rice Flour, Organic Brown Rice Syrup, Organic Honey, Organic Soy Oil, Organic Invert Cane Syrup, Organic Evaporated Cane Juice, Organic Corn Starch, Organic Acacia Gum, Organic freeze-dried raspberries, Organic freeze-dried blueberries, Natural Marshmallow  Flavor (gelatin-free), Sea Salt, Organic Molasses, Natural blueberry Flavor.
Peanut Choco Drizzle-
1 bar (28 grams) has 120 calories, 4.5 grams of fat, 18 grams of carbohydrates, 1 gram of fiber, 8 grams of sugar and 2 grams of protein.
Organic Brown Rice Flour, Organic Brown Rice Syrup, Organic Honey, Organic Peanut Butter, Organic Chocolate Icing (organic evaporated cane juice, [organic evaporated cane juice, organic tapioca starch], organic palm kernel oil, organic cocoa, natural flavors, organic soy lecithin, sea salt), Organic Invert Cane Syrup, Organic Roasted Peanuts, Organic Evaporated Cane Juice, Organic Soy Oil, Organic Acacia Gum,  Sea Salt, Organic Molasses, Tocopherols (natural vitamin E.)