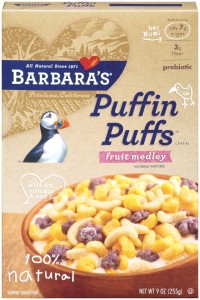 Ah, that cute puffin I have grown to love on most of the Barbara's Bakery products. It's almost as if when I'm browsing the grocery store, I don't have to look hard to find the Barbara's Bakery products- just look for the cute puffin!
Well, today he's feature on the Puffin Puffs Fruit Medley Cereal that I was sent to try from Barbara's Bakery. According to the package, this cereal is "100% natural" and a "crunchy corn and oat cereal", along with being "prebiotic". Let's hope it's tasty, too! : )
I opened up the single serve bag, and saw a variety of shapes and colors- certainly not what I'm used to with the familiar puffin squares. There were yellow banana shaped pieces, orange orange shaped pieces, and purple pieces that sort of resembled either a flower or a bunch of grapes, I wasn't really sure.
Anywho-
The taste sure was FRUITY! Almost a tropical feel really. Each piece sort of tasted the same, and all together, it reminded me of fruity-type cereals I have eaten in the past. The cereal was quite sweet overall, but not "sugary" tasting, which I liked. The texture was very airy, crispy and crunchy- even slightly sticky!
Overall, an enjoyable cereal. I'm sure kids will enjoy this cereal, and I thought it was quite good too. I'm giving it 3 1/2 stars overall. It was a bit airy for my liking, and I can't really see it satisfying my appetite for long. I do like how there is 3 grams of fiber, and only 7 grams of sugar per 30-gram bag!
So, here's a question you may want to answer…
What's your favorite childhood cereal?
I think mine was Peanut Butter Cap'n Crunch! 🙂
1 bag (30 grams) is 120 calories, 1 gram of fat, 26 grams of carbohydrates, 3 grams of fiber, 7 grams of sugar and 2 grams of protein.