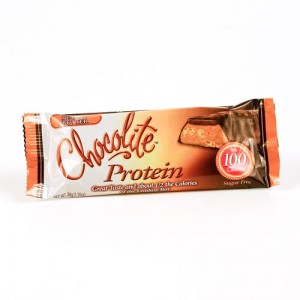 I hope we all know my love with peanut butter by now, as it's creamy, salty, savory, and just  delicious. And when paired with chocolate? What could be BETTER?! How about when it's gluten free, sugar free AND has protein? Hmm… I like the sound of that!
The other day I was hungry, and in the mood for something both savory and sweet. So I grabbed this bar, and decided to give it a try. I opened it up and saw a somewhat thin bar, coated with chocolate. I took a bite and was very surprised. Peanut Butter? Where!?!
After I chewed it for a while, I did taste a slight bit of a peanut-ty aftertaste, but no where near what I had hoped and expected to taste. In my opinion, this was a chocolate covered caramel bar, with a little bit of peanut flavor. The chocolate was sweet, and the caramel was chewy but not too chewy-so pretty good. It was tasty, but a bit of a disappointment for me as I was really hoping for some delicious peanut butter!
Overall, I give this 3  stars. It's a good bar, especially if you like caramel and chocolate, but I really wanted some more peanut butter flavor! Like those delicious peanut butter cup patties I had from Chocolite before! I do like that it was sugar free and gluten free, as well as providing a good amount of protein as well.
What's your favorite Protein Bar? Please leave me a comment below! 🙂
1 bar is 100 calories, 4 grams of fat, 17 grams of carbohydrates, 10 grams of fiber, 0 grams of sugar ( 4 grams of sugar alcohols)  and  9 grams of protein.
*I was given this bar to try for free from Health Smart Foods/ Chocolite*