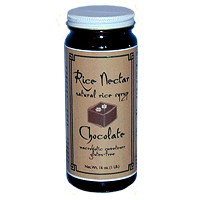 Source
Now that the cold weather is here (I will wait for you, summer…) what's better than the holiday treats and hot cocoa?
To add to those treats, Suzanne's Specialties makes Chocolate Rice Nectar, which according to the bottle, "will replace supermarket type chocolate syrup in any recipe", and can use it "over frozen desserts, cakes" or even "directly from the bottle". This product is also "gluten free and is made without the use of any cane or beet sugars".
So, I decided to give it a try! I had some straight from the jar, and wanted to make some chocolate milk.
First I took a spoonful out. It was very thick, almost like caramel, with a very dark black/brown color. I tasted some, and it was certainly sweet, but had a chocolatey tang to it. Not exactly like chocolate syrup I'm used to, but very close. I couldn't get over how THICK it was!
Next, I wanted to make chocolate milk. So I stuck a spoonful in a cup, added some milk, and stirred. Rather, I attempted to stir. I kept mixing, and although the milk did change color, there was a rather decent amount of the Rice Nectar still on the bottom of the cup. Hmm.. what could I do?
Microwave! I heated it up for about 20 seconds, and make a mock Hot- Cocoa! And DELICIOUS it was. Almost like a burnt milk chocolate flavor. The rice nectar worked very well warm.
I also plan on dipping strawberries or cut up apple slices in this rice nectar. Can we say YUMMY!?!
Overall, pretty yummy! While I wouldn't eat it straight from the jar, I think it's better eaten with things. I also wouldn't eat it everyday, as 2 tablespoons has 125 calories (but also 2.5 grams of fiber!) 3 1/2 stars
2 tablespoons is 125 calories, 0 grams of fat, 30 grams of carbohydrates, 19 grams of sugar, 2.5 grams of fiber and 2 grams of protein.
Brown Rice Syrup, Cocoa Powder, and Natural Vanilla.
*I recieved this product to try for free from Suzanne's Specialties*