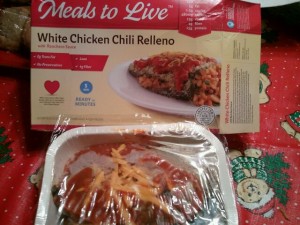 Recently, I was asked to do a review of some frozen dinners by Meals to Live. While I love frozen meals for convenience (Amy's Kitchen has my heart!), I also watch out for preservatives, excess sodium and additives when choosing them.  One of the reasons I agreed to eat Meals to Live as that the ingredient list seemed pretty good, and according to the  box, they were "a fundraising partner of Diabetes Friendly Foundation".
Last night for dinner I chose the White Chicken Chili Relleno with Ranchero Sauce. It seemed like a large piece, but I also steamed some broccoli to have on the side. There was 15 grams of protein in one package (255 grams), with 480 mg of sodium and 5 grams of fat, so it seemed pretty good to me.
Frozen, it kind of reminded me of fried eggplant for some reason when I looked at it. So I cooked it for about 5 minutes in the microwave (and it sure smelled quite saucy/spicy as it was cooking!) and then sat down to eat.
First of all, I was like, what IS this? From what I could tell, it was a chili poblano that was breaded and covered with sauce and cheese with pieces of chicken, sauce and rice inside. The sauce was slightly sweet at first, and then it had a spicy/salty and oniony flavor. The chili poblano itself resembled a giant spinach leaf, which is what I thought it was at first until I read the ingredients again, and was spicy at some times, but then bland and a bit watery at others. It reminded me of a giant chewy noodle, in a way. The chicken and rice with the sauce was the best part. Flavorful, chewy and a bit salty, but pretty good. There wasn't a lot of rice or chicken, but the amount given was quite tasty.
Overall, the meal reminded me of a stuffed pepper I ate when I was growing up. It was pretty good, and I am quite satisfied after eating it with some broccoli (ok, and a leftover Christmas chocolate chip cookie…). I wasn't crazy about the outside chili part, but the insides were good. I do wish it came with a side, like rice or a vegetable, rather than just that alone. Overall, 3 stars.
1 package is 210 calories, 5 grams of fat, 29 grams of carbohydrates, 4 grams of fiber and 15 grams of protein.
I was provided this meal to try for free from Meals to Live