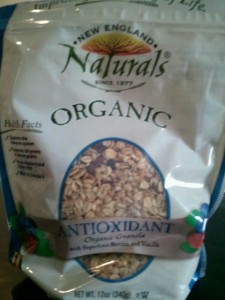 Another granola review from the New England Naturals line! Last time I tried the Banana Walnut and thought it was pretty good. Now today is the New England Naturals Organic Antioxidant Granola with Superfruit Berries and Vanilla.
So this one, according to the package, has "36 grams of whole grains", and is "rich in Omega-3".Now, to be fair, I believe somebody got a hold of this bag of granola before I got to try it, so half the bag was gone (I have some hungry people living in my house apparently!!). So I thought well, if half the bag is gone, this HAS to be good! I opened it up and saw mostly oats, with some pieces of dried fruit and an occasional sunflower seed/ walnut piece, which were crunchy and fresh tasting.
Anyway- the granola itself had a good crunch and had a mild sweetness. It had a vanilla flavor and a bit of cinnamon as well. I imagine this being a great granola for putting on yogurt! There also were plump and sweet raisins, and red bits of dried fruit as well. I thought they were all cranberries. And although there were some cranberries, they were NOT all cranberries. I did NOT like the other orangey/red pieces- I looked at the ingredients and found out they were goji berries. I have tried goji berries before in other products and thought they were ok, but these had a horrible aftertaste. Bitter, and just NOT my kind of berry. I was glad the sweet raisins were there- I think they came to the rescue!
However, all together- quite tasty! I loved the consistency of the granola, and the overall flavor, minus the goji berries, was quite good. A serving of 1/2 cup has 4 grams of fiber and only 6 grams of fat, so that's pretty good in my eyes. I also love that it's organic, of course! 3 1/2 stars.
1 serving ( 1/2 cup) is 230 calories, 6 grams of fat, 37 grams of carbohydrates, 4 grams of fiber, 10 grams of sugar and 6 grams of protein.
Are you a fan of Goji Berries?
I received this granola to try for free from New England Naturals.