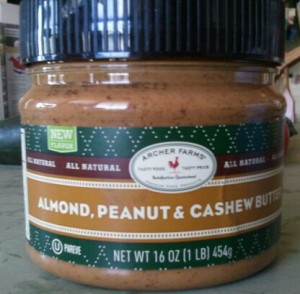 What's better than peanut butter? How about when it's COMBINED with almond AND cashew butter? =)
I was at Target the other day and this product caught my eye. Since I'm a huge fan of peanut butter (which you probably know by now), I thought there was no way I couldn't like this, seeing as I do also like almond butter and cashew butter.
After purchasing the jar, it was about $5, I opened it up. There wasn't a lot of oil on top, but it had that "loose" consistency to it, so it definitely needed a stir. After stirring it I took a taste and thought one thing this is some PASTY nut butter! It is so thick, and kind of has that consistency where a glass of milk or water or something is needed to wash it down. Unbelieveable! The taste was predominantly almonds, with some peanut flavor as well. I didn't really taste much cashew flavor, which was a bit disappointing, but I don't think cashews don't have a very strong flavor to begin with. There was just a hint of saltyness, like a sea salt flavor, at the end that added a nice touch.
Overall, it is a rather delicious spread, but I cannot eat this out of the jar with a spoon without something to drink. I think it would be absolutely great on bread with sliced bananas and honey. In fact, I'm pretty sure I'm going to have that for lunch…soon! 4 stars
2 tablespoons is 185 calories,16 grams of fat, 5 grams of carbohydrates, 3 grams of fiber, 1 gram of sugar, and 7 grams of protein.
What's your favorite all time nut butter?