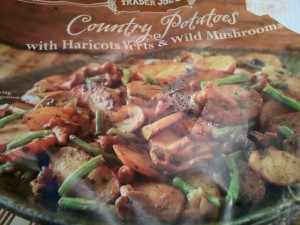 So, I went to Trader Joe's today (ME? Go to Trader Joe's?! When does THAT happen… 😉 ) and bought these Country Potatoes with Haricots Verts & Wild Mushrooms. I've eaten it before, and pretty much loved it, so I feel it deserves some recognition here on HealthNuttxo!
I put the bag's contents in a frying pan and cooked it – here's how it looked in the pan.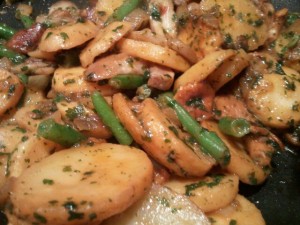 I remember the last time I bought these I cooked them up, people in my house were asking what smelled so good and if they could have some. It indeed, smells delicious!
After cooking up, I transferred it to my plate. There was potatoes, mushrooms, pieces of onions, and "Haricots Verts" as the package states. It was a bit greasy, but so tasty that I didn't mind. The potatoes were thickly cut, some big pieces some small, and very soft and fluffy on the inside. The green beans were tender, flavorful, and delicious. Lastly the mushrooms, which I was ok about, some were big flat pieces and other pieces were more textured. Some of the pieces were very good, and others were kind of squishy in consistency. I could have eaten a different vegetable in place of the mushrooms, but they weren't bad.
Overall, it was a bit salty (300 mg per serving), and had a garlicy and oniony flavor. So good! This one gets 4 1/2 stars, and will be a regular appearance in my grocery cart to buy at Trader Joe's!
110 grams is 130 calories, 6 grams of fat (2 saturated), 18 grams of carbohydrates, 3 grams of fiber, 2 grams of sugar and 2 grams of protein.
What's something you buy again and again at Trader Joe's (if you have been there) ?