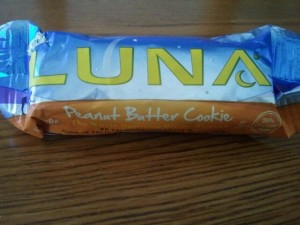 I happen to like Luna Bars, I think they are unique, and I love that they have a good amount of protein as well as some vitamins and minerals. My favorite is the White Chocolate Macadamia bar, as it is just sooo good!
Seeing my love for peanut butter, I thought I would certainly like the Peanut Butter Cookie flavor, which I got in the Mini's form. How big is this "Mini" bar exactly? Here is the comparison against 2 Nips candies.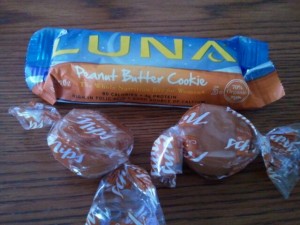 First bite, I was a bit surprised. There really wasn't a strong peanut butter flavor at all 🙁
You know me, I loooove peanut butter, so if this is called "Peanut Butter Cookie" I want something sweet and peanut buttery! While there was a very mild peanut butter flavor, I thought it mostly had a vanilla flavor with peanut butter undertones. It was crunchy and chewy, with an icing-like smooth consistency on the bottom. It really wasn't all that sweet, despite the 5 grams of sugar for this little bar. I also tasted flaxseed at one point, which really isn't one of the flavors I enjoy.
At first I thought, there is no way this tiny little bar is going to satisfy me. However, after I ate it, it really did satisfy! I wasn't hungry or full for that matter, but it just took the edge of my hunger for the time being. It was pretty good, but not my favorite. I wish it was sweeter and/or more peanut buttery! 3 stars.
1 bar is 80 calories, 3 grams of fat, 10 grams of carbohydrates, 1 gram of fiber, 5 grams of sugar and 4 grams of protein.
What's your favorite bar that is peanut butter flavored? Mine, hands down, is this one here.