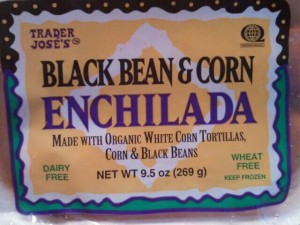 Tonight for dinner, I was in the mood for something tasty, and something different. I remembered I bought the Trader Joe's Black Bean & Corn Enchilada dish a while ago, and searched and then dug it out of the back of my freezer (it's a balancing act in there with all those boxes leaning on one another!!)
According to the package, these were "wheat free" and "dairy free", as well as being made with "organic white corn tortillas", which I liked.
I cooked em up in the microwave, and had some steamed broccoli on the side. In the dish itself, there was crispy edges on the side and plenty of sauce surrounding the two enchiladas. Here's how it looked when transferred to my plate.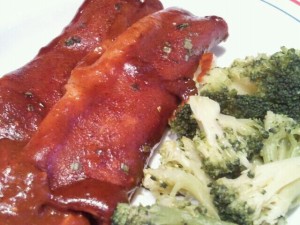 And, here's how it looked when I cut the tortilla to see the inside filling. There was mostly corn, tofu and black beans, with a few peppers I believe as well.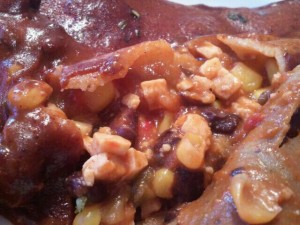 As you can see, PLENTY of corn. There wasn't a TON of filling, but I'd say a rather good amount. The corn was very fresh tasting, and the beans were soft. The tofu was my favorite part, even though it was so tiny! Literally itsy-bitsy squares of soft tofu. I think I also saw a few peppers or some other small green vegetable, but those were rather sporadic.
The filling was stuffed inside the corn tortillas, which were very soft, and easy to cut with my fork. I liked that, for even though growing up I remember my mother telling me it was improper table manners to cut with just your fork, it's EASY! And if I can cut with just my fork, then why not? (;  (rest assured, If I was eating at a restaurant, I would practice proper table manners. No worries!!)
Lastly, the sauce. It was very flavorful, and left a hint of spice in my mouth even when I was done eating. I liked that there was a good amount of the sauce as well.
Overall, pretty tasty! I wish that there was more protein, as both enchiladas only provided 8 grams of protein. Even though I wasn't all that hungry at the beginning of my meal, I was hungry shortly after eating. Next time I eat these, I'll probably have more veggies and a side of protein as well. 4 stars
So, my question is….What's your favorite Mexican entree? Any particular brand you like?