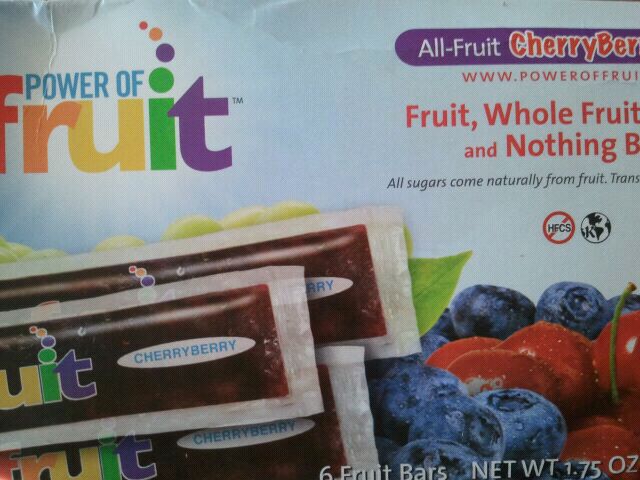 I loooooove cherries. Not the kind on top of ice cream sundaes- but dark, purple cherries. I remember a friend of mine and I ate a whole bag of them on the 4th of July coming home in a car ride. We were left with an awful lot of pits and stems, but they were so good we couldn't stop eating them. And really, how can there be any guilt involved eating mass quantities of FRUIT? I mean really, how DARE I? Now I ate a bunch of antioxidants with no added sugar and exceeded my quota for fruit for the day, maybe even the next few days! I'll never learn, will I? 😉
But, ANYWAY, I was contacted by the Power of Fruit and asked if I wanted to try their Berry Cherry Power of Fruit Bar. These frozen treats are all natural, and have no added sugar, which I really liked. I'm a diabetic, so I try to stay away from sugar as much as possible. Of course, I'm not saying I never took a spoonful of icing straight from the container (tell me I'm not the only one who does that….), but when given the option for natural sugars from fruit rather than added sugar, I'm all for it!
Here's a pic of the fruity ice pop after a bite was taken. You can actually see a blueberry!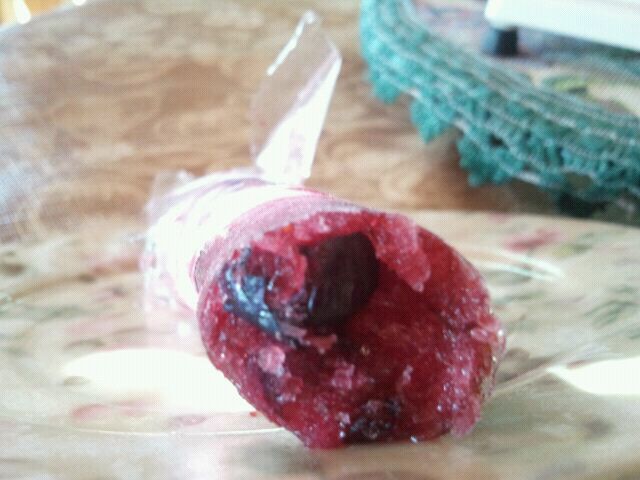 The bar looked pretty tasty, and as you can see it was a deep purple/red in color and rather thick. I took a bite, and the first thing I thought of was how tart it was! At first I thought it was pretty good – not too sweet, and pretty fruity. As I ate it though, I thought it was just ok and didn't like it as much. It had mostly a cherry and blueberry flavor, but they didn't seem like they had the same luscious flavor as they would straight from the carton or bag. The pop was also just too icy in consistency for me (another friend of mine who took a bite agreed) and I actually wish it was sweeter.
I do love the fact that there is no added sugar, and these are made with fruit. I also  do take into account that they are so low calorie, and they would be a really good treat for those times when I'm not really hungry but feel like eating (which happens….. a lot.) However, it wasn't memorable enough for me to want to eat on a daily basis, and I do wish it was just a bit sweeter. 2  stars
What's your favorite fruit to eat in the summer? Mine would be watermelon– I think it ONLY tastes good in the summer! =)
I was provided these fruit bars to try for free from the company.