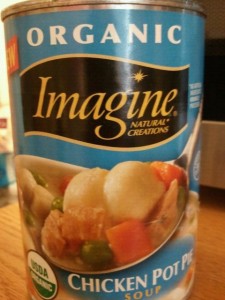 On the list of my favorite foods, is definitely pot pie. Vegetable and Chicken Pot Pie are my favorites.  A flaky, buttery crust, a thick rue, with tender veggies and/or cubes of yummy chicken. Comfort food doesn't get much better than that! So when I saw this Imagine Organic Chicken Pot Pie Soup in the stores, I KNEW I had to buy it 🙂
So, the past rainy night, I decided soup and crackers were the ideal meal. I opened up this can, and poured it, well ATTEMPTED to pour it out into the pot. It was so thick that I could literally turn it upside down and it didn't move. That's how you know a soup was going to be creamy! (and full of delicious fat….just saying ; ) )
As I cooked it, I noticed lumps of dough (taking place of the crust I assume??), tiny carrots, peas and pieces of chicken. Here's what it looked like cooked.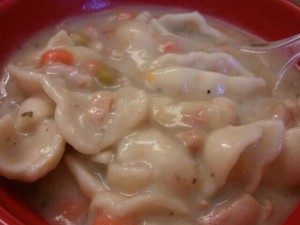 And a close up of the "dough blobs"…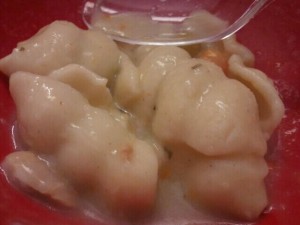 Keeping it classy with plastic spoon…. ; )
This soup, as predicted, was CREAMY! The "broth" of the soup reminded me of the creamy rou in pot pie. So good! The dough blobs threw me off a little bit. They basically tasted like giant noodles. They were soft and chewy, but otherwise rather flavorless, which kind of like noodles are. Flavorless until seasoned.
The peas and carrots were sparse in this soup – a few carrots, a couple peas here and there. And the chicken was good, but kind of fell apart.
However, I really did enjoy this soup! It was more like chicken dumping soup rather than pot pie soup, but it was still good. And hey, who complains when they dumplings? Not me, that's for sure ; )
Overall, 4 stars. I would like it if they did something else for the "crust" of a pot pie rather than the huge blobs of noodles, but this was still a good soup. I would buy it again, and I liked it didn't taste so salty that I had to drink water. We all know that drinking water while eating soup = getting full really fast. Getting "full" really fast means not eating enough for the meal, and then being annoyingly hungry an hour or so later. UGH!!!
What's your FAVORITE way to eat pot pie? Crust first, mush the crust in with the veggies/rou, or crust last? I like to eat the crust last, it's the best part!