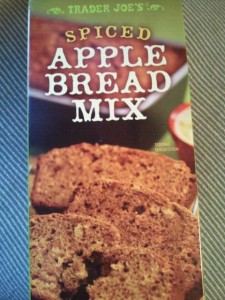 I'm all about homemade baking. I'd much rather bake chocolate chip cookies from scratch than buy the prepared versions. Something about the flavor, and the, ahem, love, that goes along with a homemade cookie. However, every now and then, a prepared version suffices. I spotted Trader Joe's Spiced Apple Bread Mix at the store and couldn't resist. Being the apple and carb fanatic I am (oh carbs…how I love thee) I figured this would be beyond delicious 🙂
So, I preheated the oven and got mixing.
Here's the goods! It needed 2 eggs, milk (I used skim), butter, and the mix.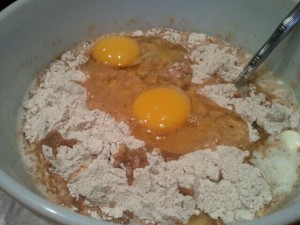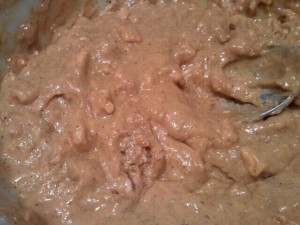 *insert baking time in oven here*
And…. fresh outta the oven!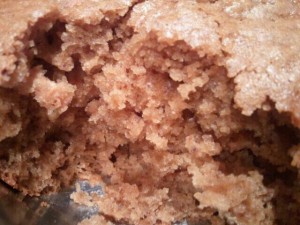 Finished product. Everything is better with powdered sugar…. 😉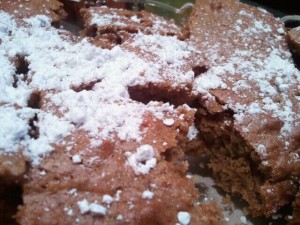 So….looks pretty. How's it taste?
It was actually pretty good! It has a very deep flavor, and I could really taste the spices. All spice and cinnamon were the most predominant flavors, and there was almost a bit of a caramel flavor as well. The bread really reminded me of pumpkin too, for the dark color and the spiced flavor. The bread was sweet, but not over the top, so I think it's acceptable to put the powdered sugar on for some added sweetness after I was suggested to do so.
It was soft and fluffy, with crispier edges, with dried apple pieces for added texture. I didn't think it was super apple-y in flavor, but it still was an enjoyable bread. I think I'll eat it again with a smear of peanut butter or butter after warming it up in the toaster oven.
It also lacked fiber and was a bit high in sugar, so this bread gets a total rating of 4 stars. Trader Joe's really never disappoints me with their products, and I hope they never do!!
What about you? Do you make mostly homemade or store-bough/semi-prepared products? What are your favorites?!
And the nutritional facts. It was kind of high in sugar.