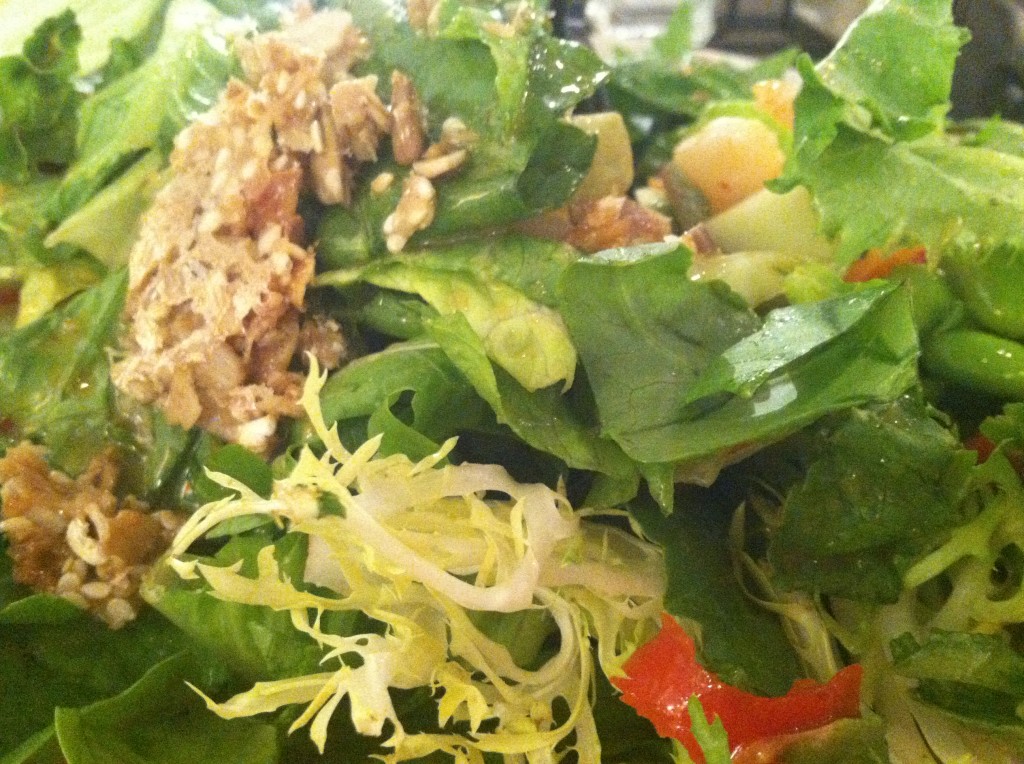 SORRY I have been missing as of lately! But no worries, I am back, and here to stay!
Today's review….Cosi Asian Shrimp Salad!!! MMMM!!!! Because who doesn't love salads, right? 😉
I ordered this one after a long day and I wanted a nice little treat that was also healthy. I don't eat out much, due to added sugars, preservatives and such that may be in the foods, as well as sodium. However, this salad definitely hit the spot.
A generous bed of lettuce, with shrimp, edamame, cucumbers, pieces of the Sesame Break Bar, tiny pieces of pineapple, and a yummy dressing. The lettuce was crunchy and fresh, and the shrimp was the perfect consistency. There was a good amount of shrimp, so I know I was getting a good amount of filling protein. That's really important to me, I do NOT like when I get salads and there is hardly any chicken or protein on it. Not filling enough for me! The shrimp itself was not too chewy or rubbery, which is definitely a plus for me. I loved the tiny bits of pineapple, as they added some zing to the salad. The cucumbers, very crispy and also fresh, were abundant, although I am not a cucumber fan, so sadly most of mine were not eaten 😀
Moving on, the best part of the salad, hands down, was the pieces of the Sesame break Bar. SO GOOD! Crunchy, slightly sweet and nutty, it really pulled the salad together and made it feel like such a treat. I honestly was tempted to see if I could buy just the Sesame Break bar!
Lastly, what's a salad without a good DRESSING? This one was very good. Tangy yet sweet, and a generous amount. It wasn't flooded with dressing, which I like, but everything was well coated. It also had a little bit of spice to it.
Overall, a definite try! It also comes in the Asian Salmon Salad variety, but I am more of a shrimp person than salmon. As for the nutrition, according to the website it is
375 calories, 17 grams of fat ( 3 saturated), 1123 mg of sodium (yikes!) , 6 grams of fiber, 25 grams of sugar, and 20 grams of protein.
This salad has a bit too much fat/sodium and sugar for my likings,  but it is a good treat every now and then. It comes with bread and carrots as well. Overall, 4 stars