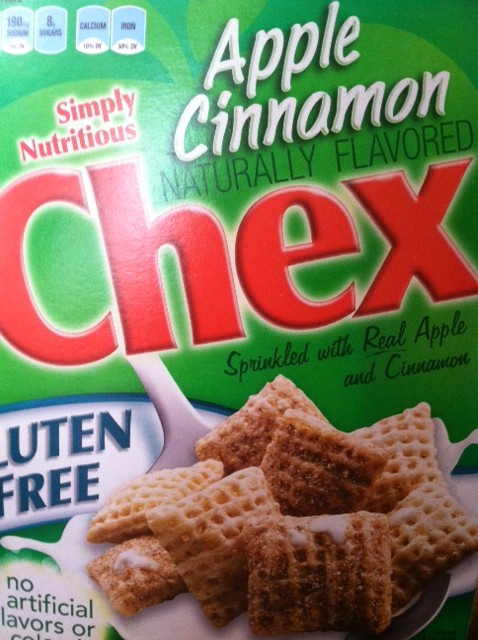 I admit…I've been in a Special K rut for years. Now I hardly have cereal for breakfast, but every now and then (especially high cardio mornings) I like to have a bowl with some milk for some carbs and protein to keep me going. Well…since I'm trying to refrain from wheat, I skipped the Special K and went for the Gluten Free Apple Cinnamon Chex cereal (I still love you, wheat!)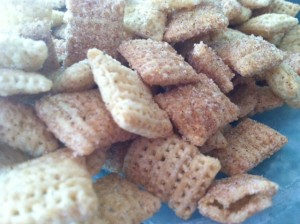 So I poured a bowl (err…1 cup). I noticed some chex were very sugary/cinnamony and others quite plain as the picture depicts above. Dry…I LOVE the cereal! The plain ones added some crunch, but were, well, relatively plain and bland. The sugary and cinnamony ones were so good :] They tasted like Cinnamon Toast Crunch Squares and were sweet and delicious. I noticed a light apple flavor but nothing too overpowering. When I poured milk onto the cereal…the cereal's flavor went quite downhill. The flavor dissipated and the cereal was basically crunchy squares (at first at least) that tasted like Corn Flakes.
Overall, a good cereal. I wish it was a bit more "apple-y" in flavor, and I wish the flavor didn't vanish so much in milk, but I suppose that can't really be prevented (who knows? I know nothing about the cereal making business haha). The serving size is also a bit small (3/4 cup) and the cereal is low in fiber, with 8 grams of sugar per serving. That being said, this cereal gets 3 1/2 stars overall.