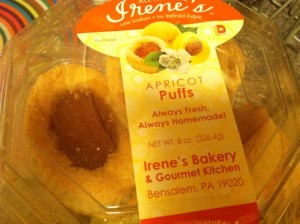 JUST when I've been so good on my diet… (egg whites, oatmeal, chicken, veggies, you name it!) I get a whole box of cookies to try from Irene's. What's that? My diet out the window? Womp. (not really complaining though- thank you guys for your generosity!)
I have tried the Raspberry Puffs from Irene's in the past. LOVED THEM, and was offered to try the Lemon Cranberry and Apricot versions. Irene's also sent me some meringues to try as well.
For obvious reasons, I tried the Apricot Puff first.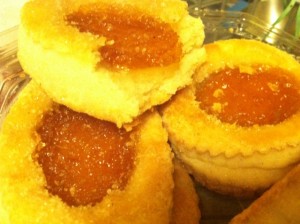 Of any dried fruit or jam, it is APRICOT that I like the most. So sweet yet tangy and delicious. The puff was thick, about the width of my thumb, with a jam in the middle. The crust of the cookie was soft and doughy. It tasted kind of like a standard buttery pie crust, but a bit sweeter from the sugar granules. The fruit part was delicious as expected 🙂 Not super smooth, and had a bit of texture. Delicious. Tangy and sweet as it should be. The bottom of the cookie was a bit harder and "supported" the cookie which was nice. I liked the fruit component a lot here, but felt the cookie/crust part was a little bland and dense, so  4 stars.
Next up, the Lemon Cranberry.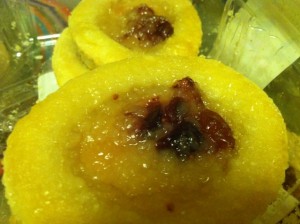 This one was not as wide as the apricot, but still good. The crust part of the cookie tasted pretty much the same, but a bit sweeter as I think part of the jam/fruity part of the cookie soaked into it. The fruity part was good- more lemon than cranberry flavor and had a refreshing tartness. It reminded me of raspberry lemonade- sweet yet tart and delicious. The cookie seemed lighter than the Apricot version, and a bit sweeter. I liked the crust part of this cookie better than the Apricot, as it wasn't as dense,  so  4 stars.
Next up, the meringues!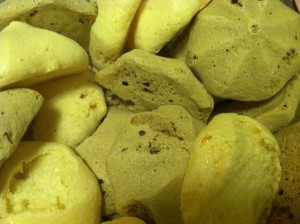 In a chocolate and vanilla version I would assume (black and white colors). Both were very delicate, the "brown/black" meringue smelled like cocoa powder, and had a chocolately flavor as well. Very sweet, and melted in my mouth instantly. The whiter meringue was also good, and I preferred that one over the "chocolate". It was sweet like icing, and had a better flavor. Overall, 3 1/2 stars.
Overall, Irene's makes some seriously yummy cookies! Addictive. I like how their slogan is "Always fresh, Always Homemade!" and they are made with natural ingredients. I also like how they were sweet yet had savory components (for the puffs) and how the meringues were just the sweet treat I need after a meal to fix my sweet tooth without derailing my diet. After all, moderation is key 🙂