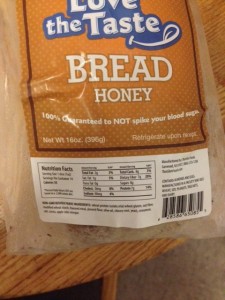 I got some samples to try for free from Thin Slim Foods! This company makes desserts, breads, bagels and more that are lower in calories and carbs than traditional fare. I was lucky enough to get a loaf of the Honey and Plain bread, as well as 2 of the brownies to try.
I was definitely intrigued by these foods. Being a Diabetic, I try to keep my carbohydrates on the lower side, as it allows for better blood sugar control (carbs= the devil for me sometimes!). Don't get me wrong, I DO miss my breads, bagels, etc. so it is nice to hear of companies that make products that are lower in carbs and calories!
First things first…the brownie! I haven't had a full brownie in ages. I bake a lot, but seldom eat what I bake- and moreso taste it so make sure it is good, and give it away for others to enjoy.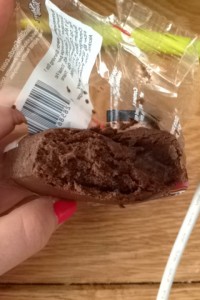 The brownie is 45 calories, 20 carbohydrates (8 of which is fiber), 0 grams of sugar, 10 sugar alcohols, and 6 grams of protein. It's a nice thick sized brownie…and the whole thing 45 calories? I was skeptical.
I bit into it. It was definitely a cakey brownie, with a strong cocoa powder flavor. It was on the dry side, and a little pasty. It had a sweetness to it- but you could tell it wasn't from sugar, but rather from a non caloric sweetener. Being a diabetic, I can spot that flavor miles away! I like it, and sort of am forced to like it since I can't eat sugar, but it's definitely not for everyone. The brownie is lackluster, but it is chocolately. I think it needs a smear of peanut butter or some sugar free chocolate chips thrown in there to be more appetizing. 2  stars.
Next up, the Honey Bread.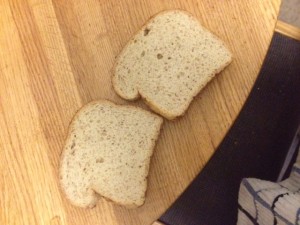 As you can see…this bread is tiny! Each piece is a little smaller than the size of my hand. I decided to make an egg white and cheese sandwich with it. So I toasted the bread from frozen, put some brummel and brown butter on it, and made a sammy!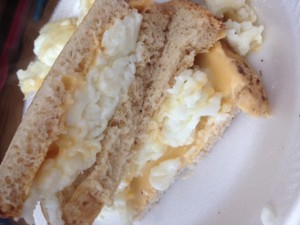 The bread is a bit bland, but versatile since you can pretty much use it for any type of sandwich or spread. It had a nice crunch and was still fluffy after toasting. It tasted almost like a rye bread, but less dense. It had a very very TEENY flavor of honey…nothing noticeable for sure. I had a very small blood sugar spike, about 10 mg/dL, but I also have to factor in the fact I had eggs and cheese which will contribute to something.
Considering this is a low carb bread…and I've had nasty ones before…this one is really good. Small, but good. I would buy it again. 3 1/2 stars
1 slice is 50 calories, 2 grams of fat, 8 grams of carbs (7 of which are fiber), 0 grams of sugar, and 7 grams of protein.
Lastly, the Plain Bread.
To be fair, I made the same sandwich.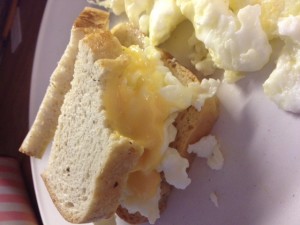 This bread is pretty much identical to the Honey one, but very very slightly less sweet. It had more of a Rye Bread flavor, but generally was still a bland bread. It was still good for the sandwich, but lacked flavor. I enjoyed the Honey one more because even though the Honey flavor was minimal, it was still noticeable. 3 stars
Overall, I think this company has some good stuff. I would love to try more in the near future, and am happy to report little to no blood sugar spikes. I also like the added protein in these products. Helps me hit my daily quotas!