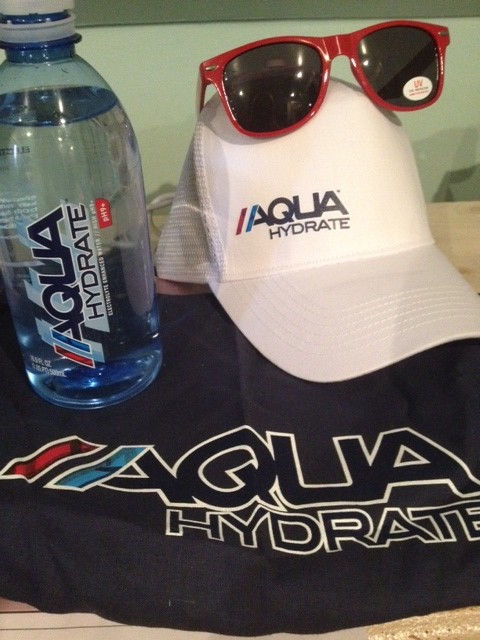 AQUAhydrate reached out to me and asked if I wanted to try their Electrolyte Enhanced Water. I happily obliged- I am an avid gym goer, and even with the warm weather it is easy to have an electrolyte imbalance whether you sweat out a lot of sodium, don't eat enough potassium, etc. So I got sent a few bottles of their Electrolyte Enhanced Water, along with this cute package of a hat, sunglasses, and a tote! Thanks guys!
This water has a pH of 9+, so it is on the basic side from a pH scale of 1-14. 7 is a neutral rating, and anything below 7 is considered more acidic (think lemon juice!). According to the label, "normal bottled water" has a pH rating of about 7.5, and this water has one in the 9-10 range. If you would like to read more about why they have a higher pH level, please visit their website here.
There are some trace minerals in the water as well. Magnesium, Selenium, Manganese, Molybdenum, Chloride, Chromium, Copper and Zinc are all added but in very teeny amounts.
As for the taste? This water is great! I know, I know… Uh…it's water? But TRUST ME I have had some nasty bottled water before. You CAN taste the difference. This water tastes super crisp and fresh,and has a very clean feel to it. I loved it. I received about 4 bottles of the water and drank it right away…and then noticed the difference when I went back to my other normal bottled water. Poland Spring..I love you man, but Aqua Hydrate may be your close cousin for top flavor in my opinion.
Overall, I like it! The bottle is thick, so I wonder if that's to help with the pH at all… or flavor… but if it's not that should change! However it is 100% recyclable so there's a plus. I would buy this if I saw it in stores. Now I have two brands of bottled water that I enjoy. Everyone loves a little dihydrogen monoxide! (heh heh, Chem joke)