The nice people over at Klara's Gourmet Cookies sent me some yummy cookies to try for free. Being a Diabetic I try not to eat sweets, but I allow myself some nibbles every now and then for events like this- a review!! 😀
I got a nice assortment and was excited to try! Let's begin 🙂
These are so cute! They are tiny cookies, powdery, soft yet crunchy, but not crispy in texture. They had just the perfect amount of sweetness and powdered sugar. They are light and sweet, with a vanilla flavor. There is a tiny walnut aftertaste, but not too much. It is a nice little most dinner snack and great with a cup of tea! They are actually so good I wanted to keep eating them, but watching my diet I gave the rest to my Mama, who happily obliged 🙂 4.5 stars
Chocolate Macaroon- These are soft and chewy, and had a strong coconut flavor. The chocolatey flavor is predominately milk chocolate, and these cookies are very sweet! It has flaked coconut in it, so I would only eat these if you are a fan of coconut! Gluten free and all natural. 4 stars
Ginger Shortbread– This cookie was spicy! It was a soft cookie, not too sweet, and it lacked shortbread flavor. In fact, you cannot really taste the shortbread part of the cookie at all. There was a "raisin" texture in the cookie, which I found out was actually pieces of ginger. But there was certainly some HEAT!!! It cleared up my sinuses after eating just one cookie. It reminded my friend of a "soft ginger snap" flavor. This one gets 2 stars, I wasn't really a fan.
Lemon Poppy Shortbread– this is a soft cookie, a little dry, and crumbly. The smell is a nice lemon- the flavor, is, well, disappointing. It has this overwhelming metallic taste to it, with slight lemon undertones. Not sweet, or buttery in flavor. Just really a fail. I had a bite or two and then threw the rest away. My friend also was not a fan. Leaves a bad aftertaste as well. This is my first 1/2 star rating. I do not recommend this cookie, and I really did not like it.
Coconut Macaroon–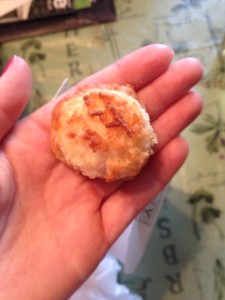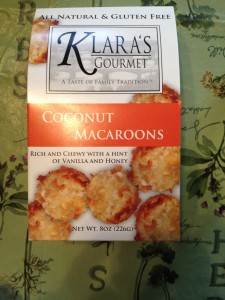 Insanely good!! These were phenomenal! They were very sweet, chewy, and had a very nice honey and vanilla flavor. They were dense and chewy, and almost had a meringue aftertaste. Gluten free. The outsides of the cookies had a nice little crunch to it from the caramelized sugar. These were literally SO good, I had to give the rest to my Mom again, who again, happily obliged. 4 1/2 stars
Overall, Klara's Gourmet Cookies has potential! Their macaroons are amazing. The other cookies were OK. But still worth a try. Let me know if you have tried these before and which is your favorite!