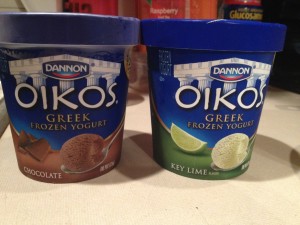 Hey peeps!
I got two new flavors of Oikos Frozen Yogurt sent to me to try for free for a review. I was certainly excited! I was a frozen yogurt JUNKIE in my freshman year of college. I also didn't count macros- I only counted calories back then. So I thought it was perfectly acceptable to eat a bowl of frozen yogurt loaded with toppings as long as I stayed in my calorie range (LOL!!). I was also a cardio bunny at the time and barely lifted a weight…oh, what a sad, sad time for me. Haha. If you like cardio, I am not knocking it, I just LOVE weight lifting!!
ANYWAY!
Off topic…because that's how I normally do ;D… onto the fro yo! I put both flavors in a bowl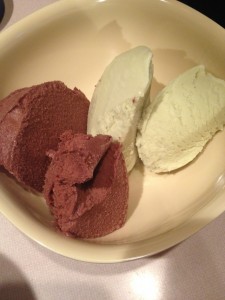 I tried the Chocolate first. It was creamy, soft and tasted just like ice cream! It was certainly sweet, and had a predominant dark chocolate flavor. It was smooth, refreshing, and very, very good! It tasted almost like those fudge Popsicles on a cardboard stick I used to eat when I was little. However, it was super creamy and not icy at all! I wouldn't have known it was frozen yogurt if the carton didn't say so 🙂 4.5 stars
Onto the Key Lime flavor… this one was also refreshing and sweet. It tasted honestly JUST like a key lime flavored yogurt. So if you like that flavor, you would like this ice cream. It was tangy and had a little zing at the end, that I thought might be ginger but it was not listed on the ingredient list. It was good, but I wouldn't buy it in the future. Not my cup of tea. 3 stars
Overall, I like these! The chocolate is the way to go in my opinion. But I would love to sample more flavors! I generally stay away from sweets because of my Diabetes, especially low fat/ high sugar ones like this because of the glycemic spike, but a few tastes every now and then is awfully nice after a hard day at the gym or a sweaty, sunny day. Enjoy your day guys!