Hello!
Today's review is on the Style Rx Weekly Pillbox by Inspired by Dawn. The weekly pillbox comes in two different styles/colors, and is printed on a cotton based canvas. It has 7 individual compartments, one "box" for each day of the week.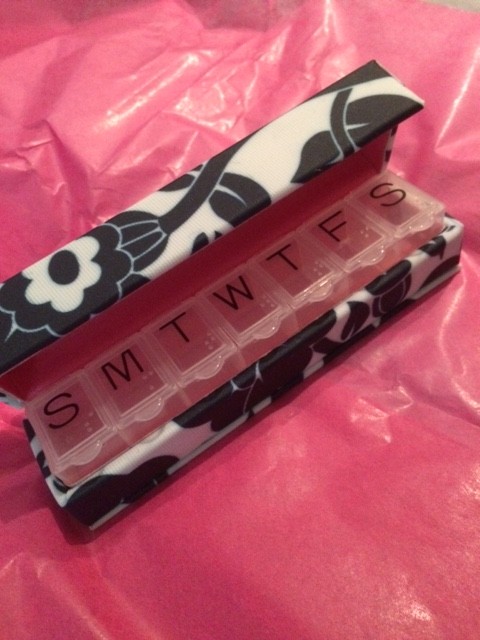 The outside canvas is super sturdy, with magnetic closure. This is great because when you stick the box in your bag, purse, etc., it won't open up on you and let your pills spilling everywhere. I personally loved the design too! It was very pretty, and helps you take your pills with you on the go, while just looking like a cute little accessory.
The little boxes inside open and close easily, but snap close/ are not flimsy. I was worried since they appear small that it wouldn't fit all my pills- mostly because I take a big fish oil pill per day. Those are always the make or break deal for me with pill boxes…however…it fit! I had an oblong long fish oil pill, pretty large, and it fit with room for my other pills.
The website showed some other ideas as well…such as holding jewelry in each compartment. This is a cute idea! It's such a pain in the butt to travel with jewelry since it gets tangled or ends up missing.
Overall, very happy with this. I am going on vacation at the end of the month and this is the perfect pillbox for me to take for my week of pills. Very pleased!
4 1/2 stars
I received this for free. This is an unbiased review.