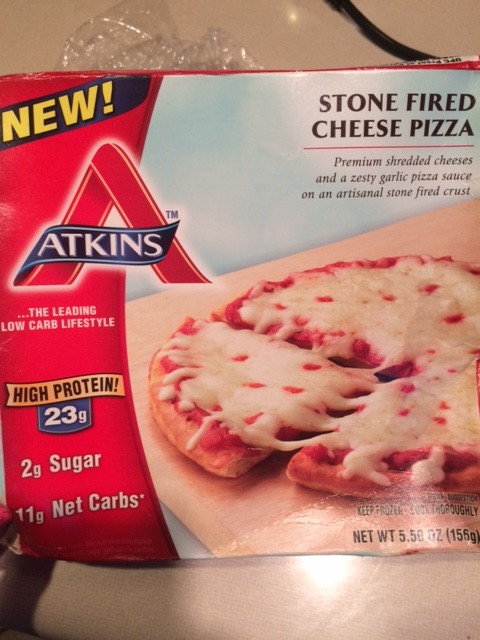 Saw this baby at Super Stop n Shop I believe…HAD to buy it!  As a Diabetic, I watch my carbs very seriously, and try to keep them on the lower side. So Low carb pizza?!?! Put me down!!!
I cooked it in the microwave, the suggested method, on the silver plate it comes with. Here's what it looked like:
KIND of comical in comparison to the box and how it depicts it to look…LOL
I ended up putting in the toaster oven as well for 2 min to crisp up the bottom crust a little more and get the cheese more melty.
How does it taste?? Honestly…it was pretty good! The crust is super thin, so you get mostly a sauce and cheese taste. The microwave created a crust that in circumference was rather tough and chewy as opposed to crunchy, so if I bought this again I might use toaster oven only on a bake setting, not the microwave.
The sauce—-> not too much of it, not super salty, pretty tasty. It might have had some parmesan cheese or something mixed in it because it had some flavors other than "tomato" which is yummy to me, it was like a 4 cheese type of sauce.
The cheese—>a little greasy, I think it was a combination of mozzarella and parmesan, but it was certainly flavorful, and NOT that yucky low fat cheese. This was real cheese!
The Crust—> honestly, it was kind of bland alone (but then again, there isn't much "crust", it's all coated by cheese and sauce), but still good. Had a wheat flavor, but went well with the cheese and sauce and was a good base.
The NET CARBS?? —> So what's the verdict? Did my blood sugar spike? Was it REALLY 11 net carbs? Honestly, SUPER happy about this part. My blood sugar went LOW after dinner! Not normally a good thing but very unexpected when eating a pizza! I only gave enough insulin for the recommended 11 net carbs, and I ended up going lower than expected. BRAVO, Atkins!
Overall, would buy again. Atkins products are pricy, and I wasn't super full after this, but pair it with some green veggies and you have a perfect light dinner with minimal effective carbs. Great Diabetic friendly pizza. 4 stars