I got an awesome review and giveaway for you guys! World Vision gave me a scarf for free, and will gladly give on to you too!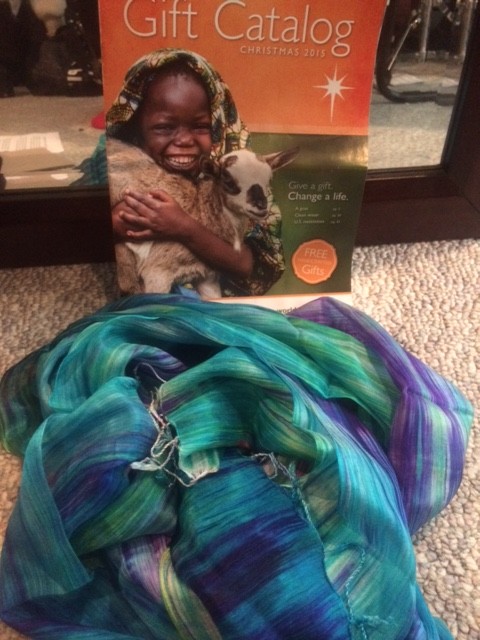 I also received the 2015 World Vision Gift Catalog. Inside is information and gifts to give and donate, with over 250 things to choose from.  For example, you can "purchase" 12 small farm animals, such as cows, sheep, pigs, etc., and they will be given to families in need in breeding groups (along with food and vaccines). These animals then have offspring, and offspring can be passed along. The animals also help provide things like milk, butter, and eggs which the communities can sell and use the money for things such as school, and clothing.
I received the Royal Silk Scarf. This one has a value of $90 and is handmade. It is hand woven by Ma Chau villagers from Vietnam, and they receive their income through making their products. It is a beautiful scarf, gorgeous colors, and a beautiful pattern. It is woven beautifully, and I cannot believe it is handmade. Amazing! I am in love with the bright and vibrant colors. I can't wait to wear it in the spring and brighten up my outfit.
You can enter to win one too!
How to enter:
Do one of the following,
Follow World Vision on twitter ( @WorldVisionNews) or (@WorldVisionUSA)
Like World Vision on Facebook with /WorldVision on the Facebook name
If you do not have any social media, visit the website and leave me a comment below saying what gift you would give if given the opportunity and resources.
Giveaway ends November 25th 2015, 12 pm. United States only. 
I received this product to try to free. This is an unbiased review,