Introducing…Vitamin Shoppe's Protein Pantry!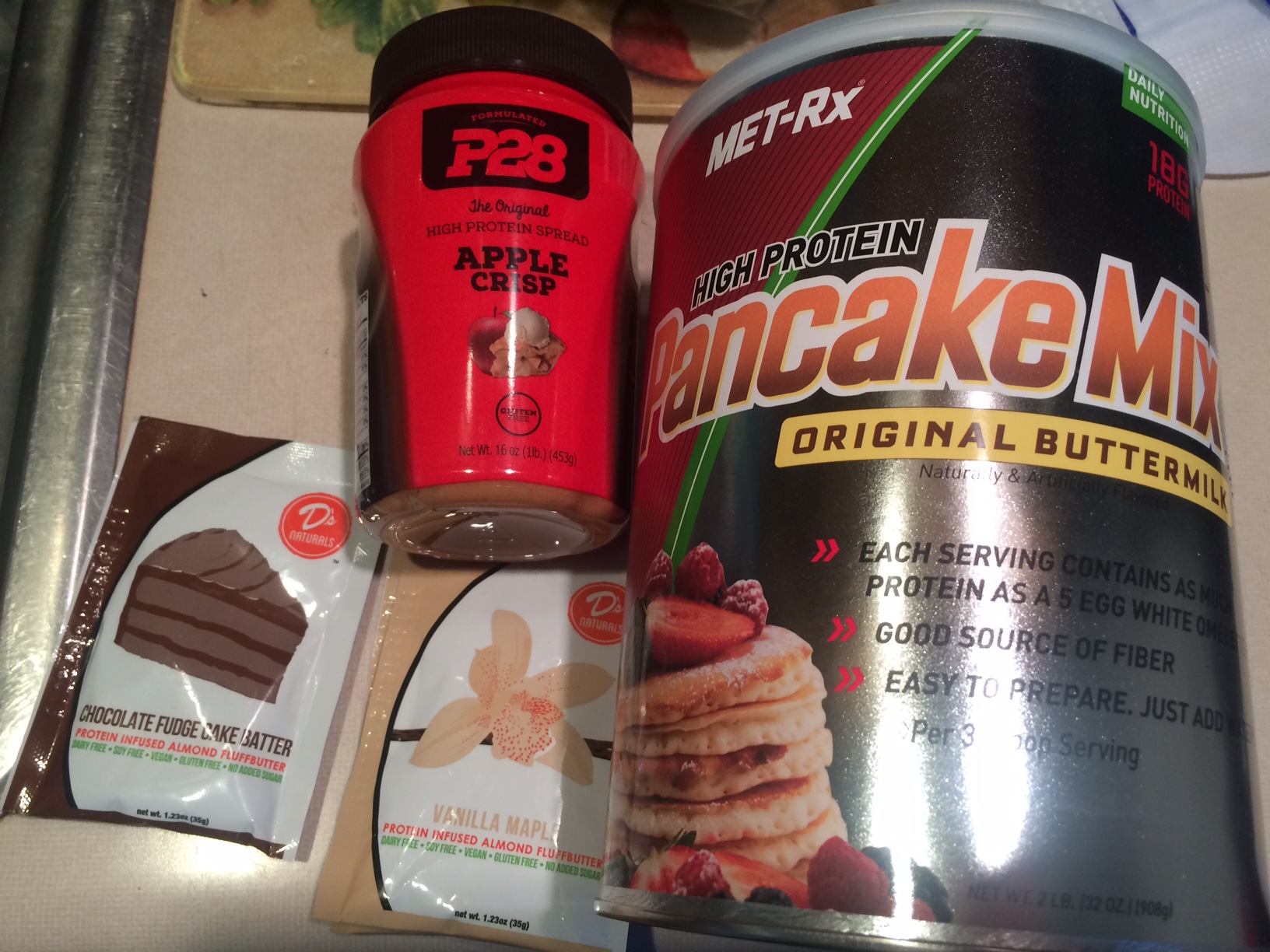 A new section at Vitamin Shoppe filled with yummy protein packed foods! My favorite. Aside from the traditional protein bars, I like eating protein enriched foods, since I have such an active lifestyle. Gotta fuel those muscles!
They sent me MET-RX Protein Pancake Mix, P28 Apple Crisp Spread, and D's Naturals Fluff Butter in Chocolate Fudge Cake Batter and Vanilla Maple.
First up…the
pancakes!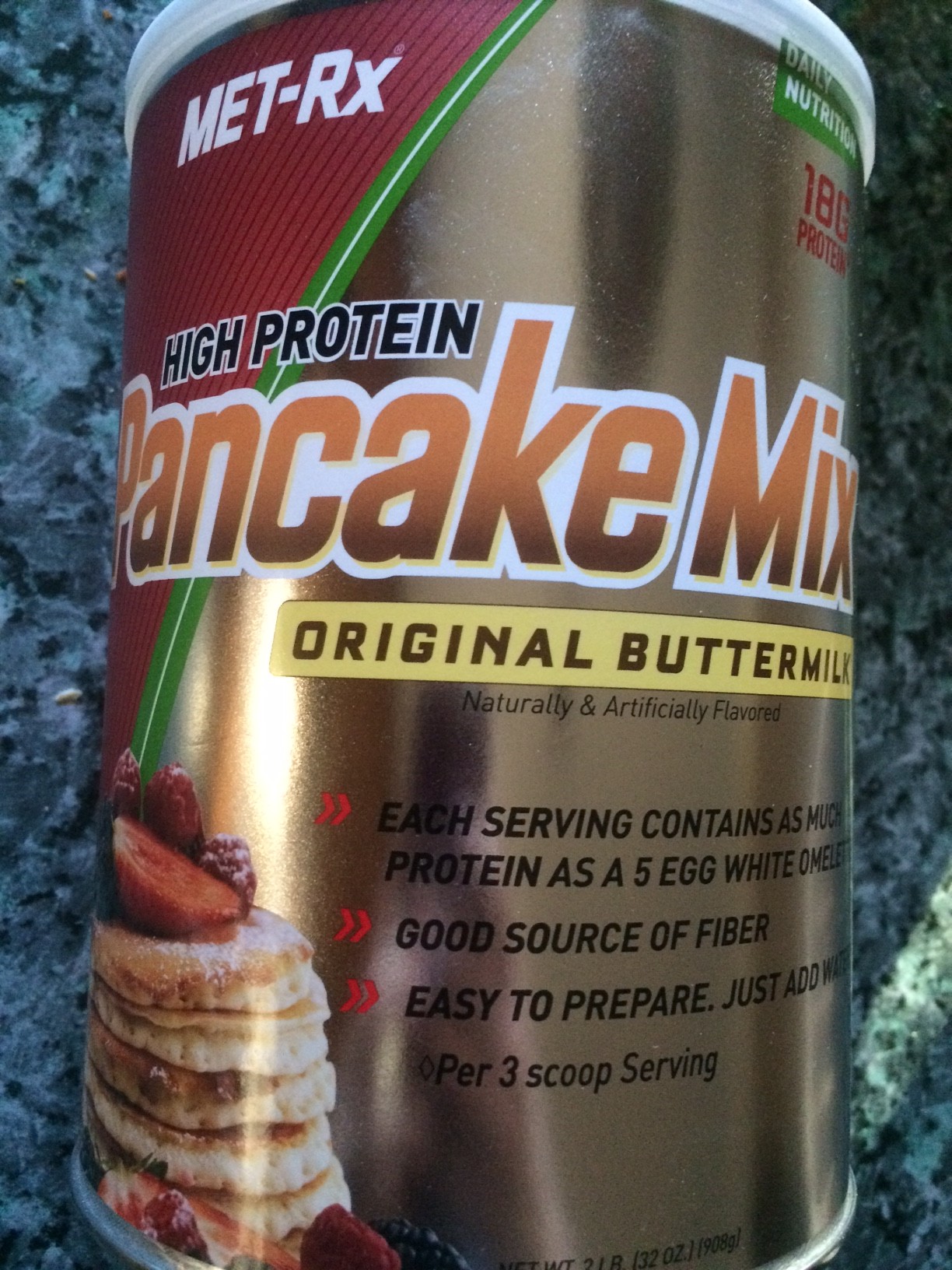 You can do 2-3 scoops with up to 1/3-1/2 cup of water, mix, and cook. I decided to use milk and cook with some pam and light butter because I like my pancakes crispy.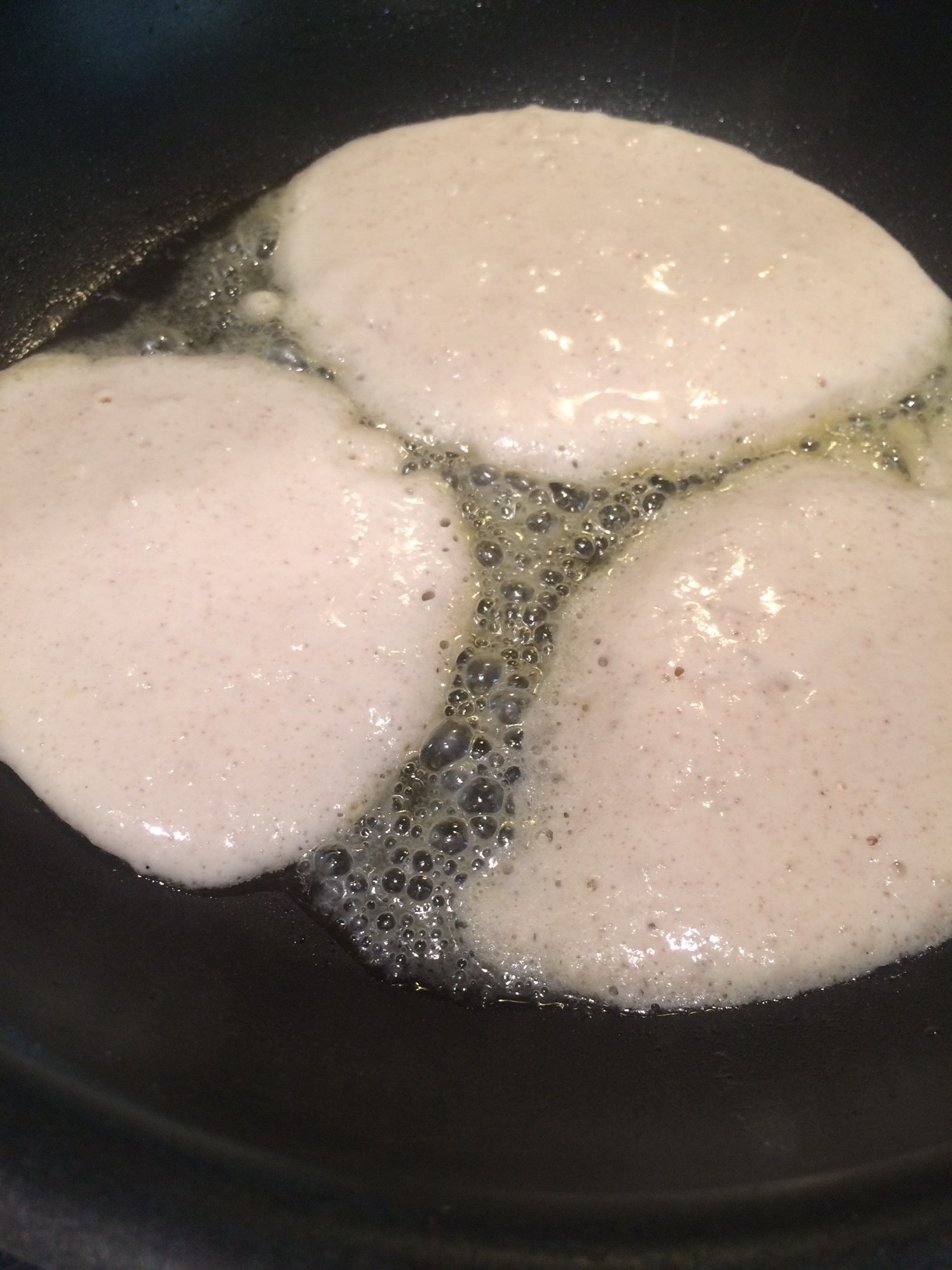 These were super yummy! They got crispy on the outside from the butter, but remained fluffy and moist on the inside. There was a delicious vanilla aroma being pervaded throughout the house when I was cooking them. They mixed easily, and cooked within a few minutes. The flavor was mildly sweet, mild buttermilk flavor, and even a touch of what felt like a vanilla protein flavor.
I liked them! I think they are versatile and welcome your own additions, but are great with butter and some sugar free syrup alone. You can view the nutritional facts below. I'm a little bummed sugar is the second ingredient added, and wheat flour is used over whole wheat. The protein count to carb and sugar ratio is a little low for me, so these will be used more as a pre-workout meal versus a post workout. With that being said, 4 stars. Great for people trying to put on some mass as well, as they are easy to eat and have some good quality calories.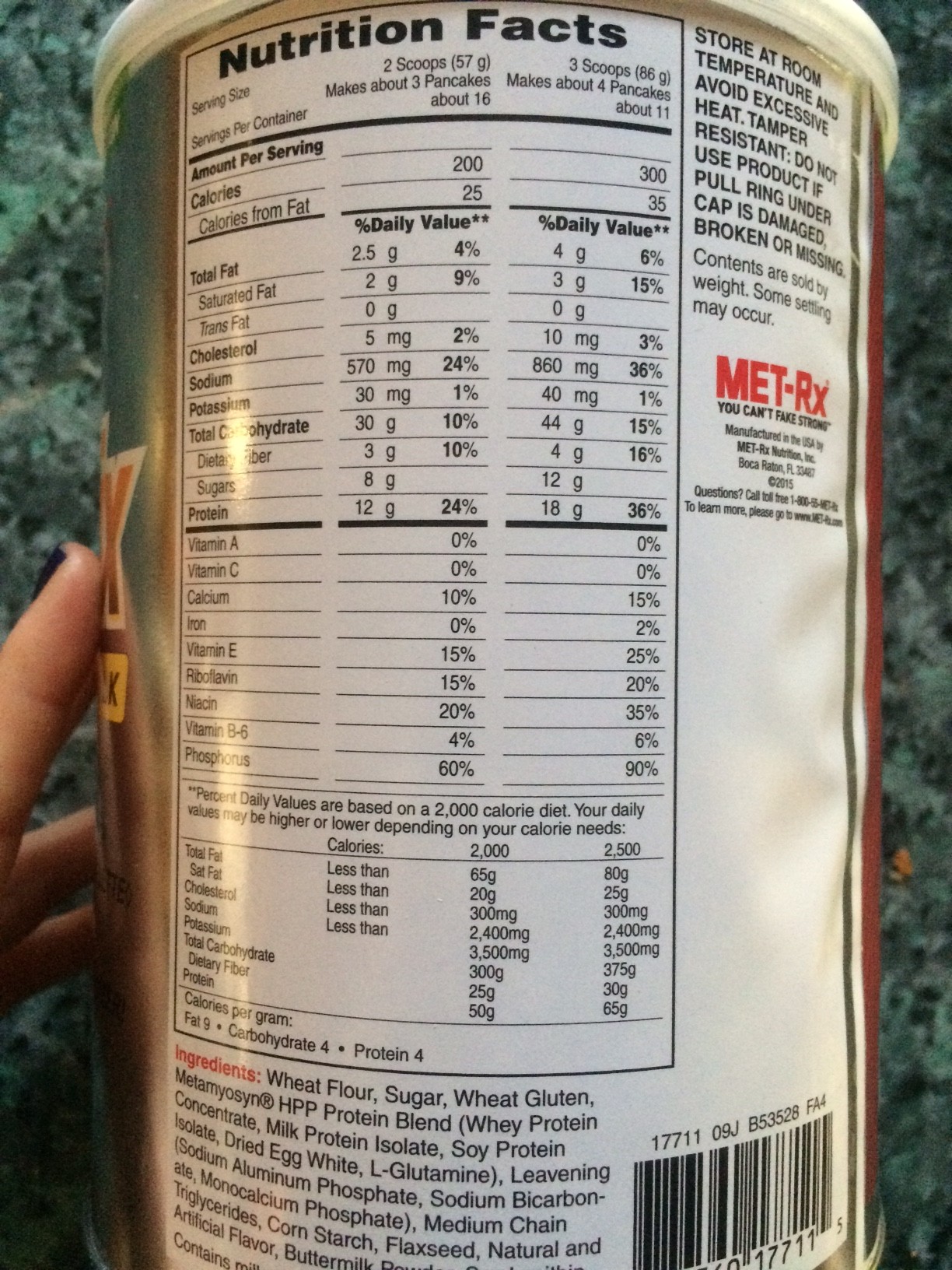 Next up,
The P28 Apple Crisp Spread
Here's the spread on some toast: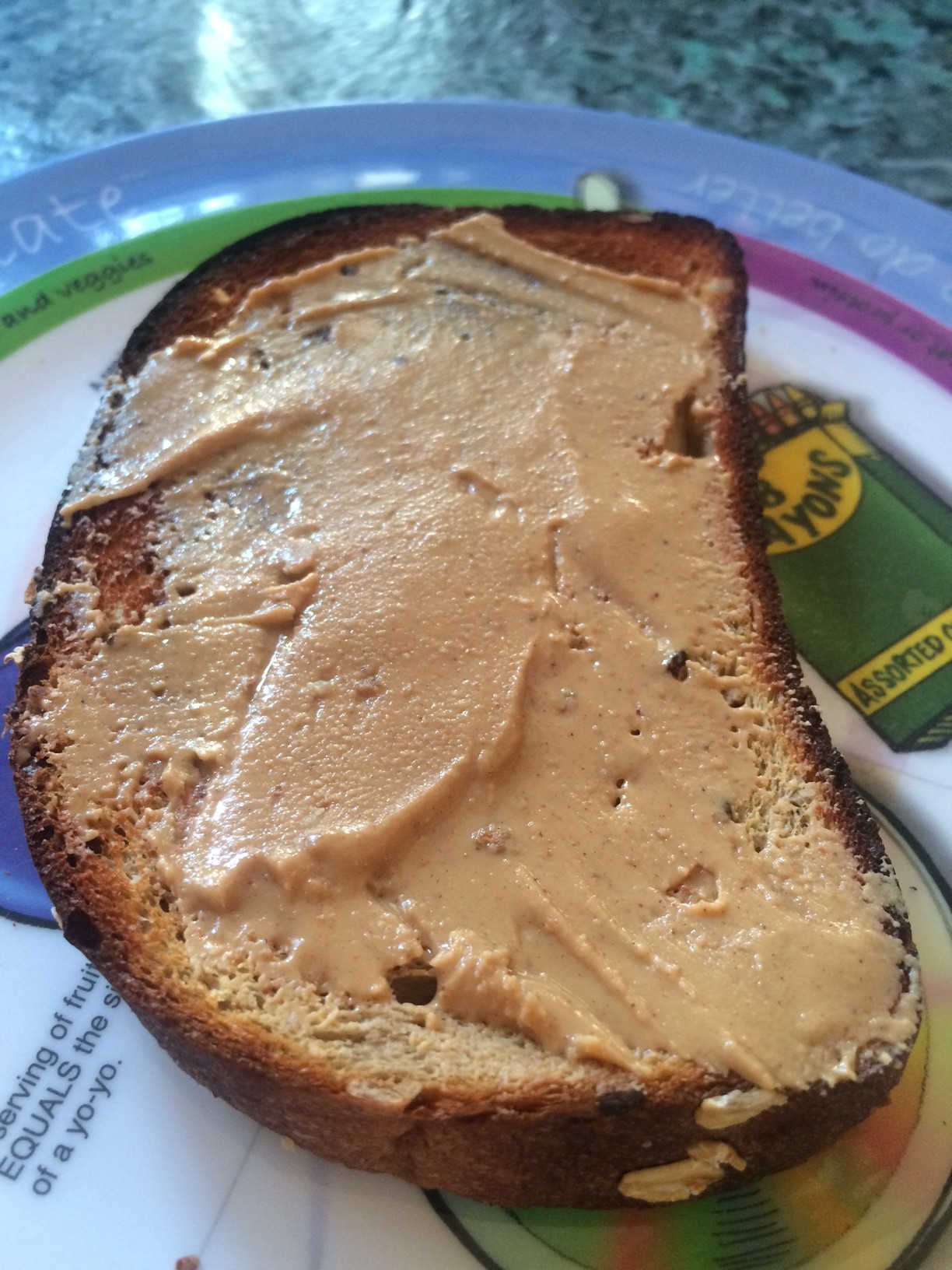 As you can see, it was pretty creamy in texture. At least…the top part was. The bottom half got a little drier, more "cement" like, kind of when you extract the natural oil out of non hydrogenated oil. It needs the fat! So if you do buy this, make sure you stir it! The bottom also had tiny bits of raisins and granola crunches that you miss out on until you hit the bottom of the jar. The flavor otherwise is okay, it's a little pasty, not too sweet, not salty, and pretty mild. I really liked it on toast after I added some jelly, which brought out the flavors of the Apple Crisp spread so much. The apple undertones really came out, and I could taste the cinnamon as well. Overall, good, but not a favorite eaten alone, especially when you hit the bottom. The nutritional profile is actually pretty awesome too- high in fat, obviously, but sugar is low and protein is high. Carbohydrates aren't much higher than a normal serving of peanuts either. 4 stars
2 tablespoons is 200 calories, 16 grams of fat, 3 saturated fat, 10 mg of sodium, 8 grams of carbohydrate, 2 grams of fiber, 3 grams of sugar, and 14 grams of protein.
 Lastly,
D's Naturals Fluff Butter
First up, the Vanilla Maple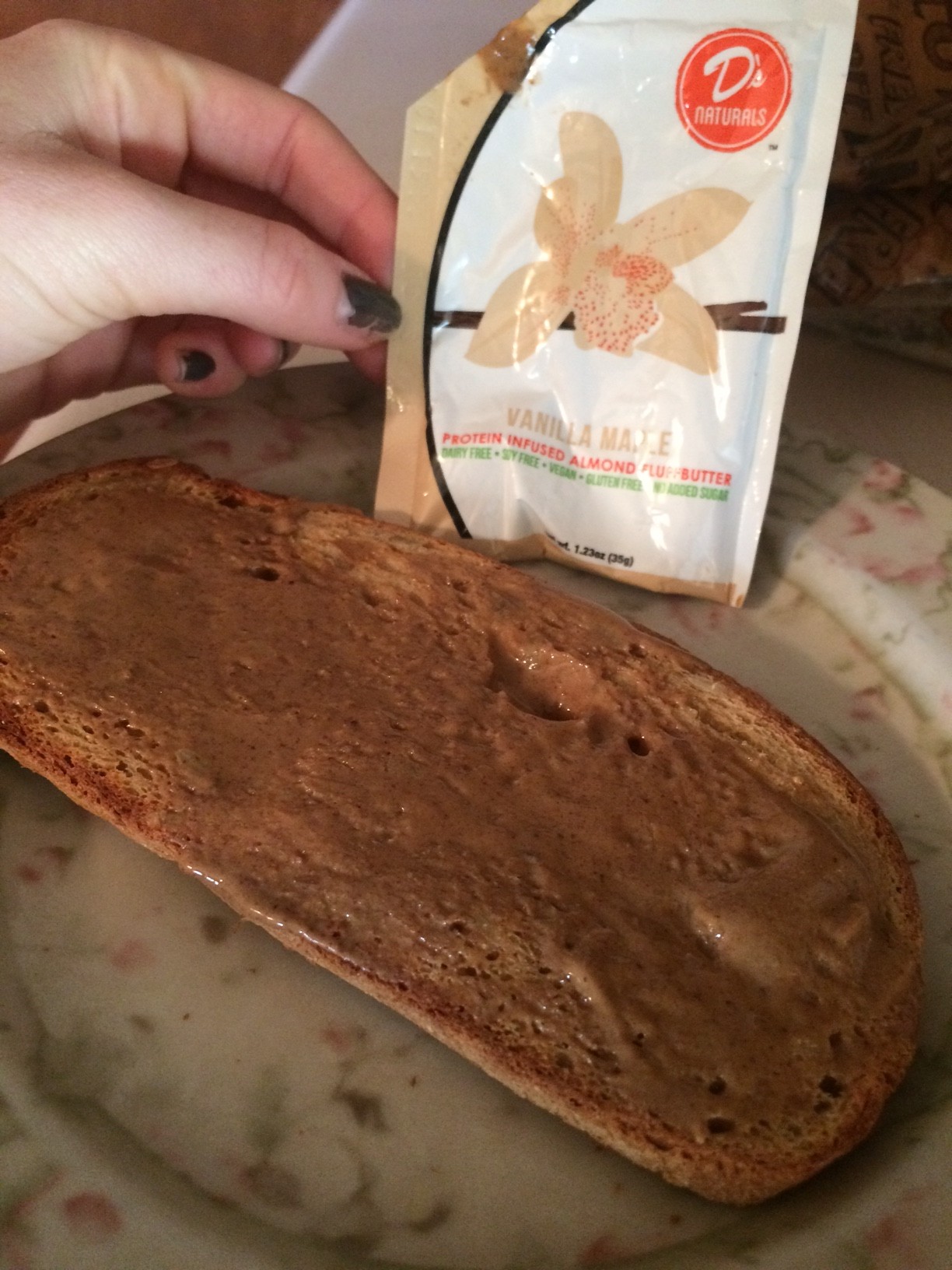 As you can see, on toast, it kind of "disintegrated" when it was warm.
So next round, I waited until it cooled off a bit, and added some Jelly.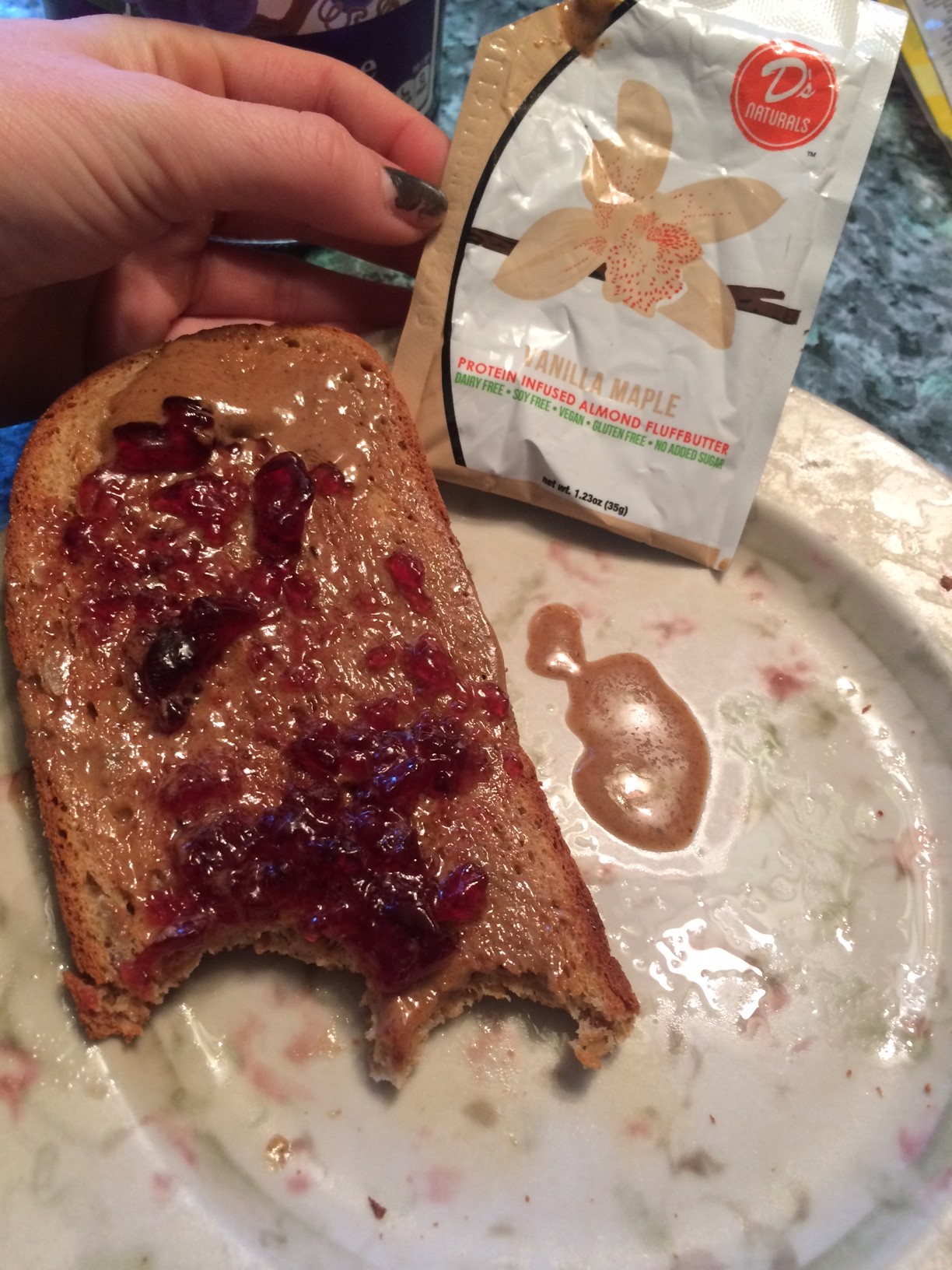 Alone, not a huge fan of this flavor. It's a little pasty, and tastes like almond extract with a maple flavor. It's thick, but not super creamy, and has this odd texture which I think is from the pea protein. If you have ever had pea protein, you know what I am talking about. It's not creamy…it has this "powdery" texture even when blended with a liquid. I can't have a spoon of this all at once…too powerful of flavor.
On toast with Jelly, much better. Even though a lot of the flavor seems to disappear into the toast, and I just seemed to taste it mildly. Overall, not a huge fan. I would pass on this one. 2 1/2 stars
Below is some nutritional facts: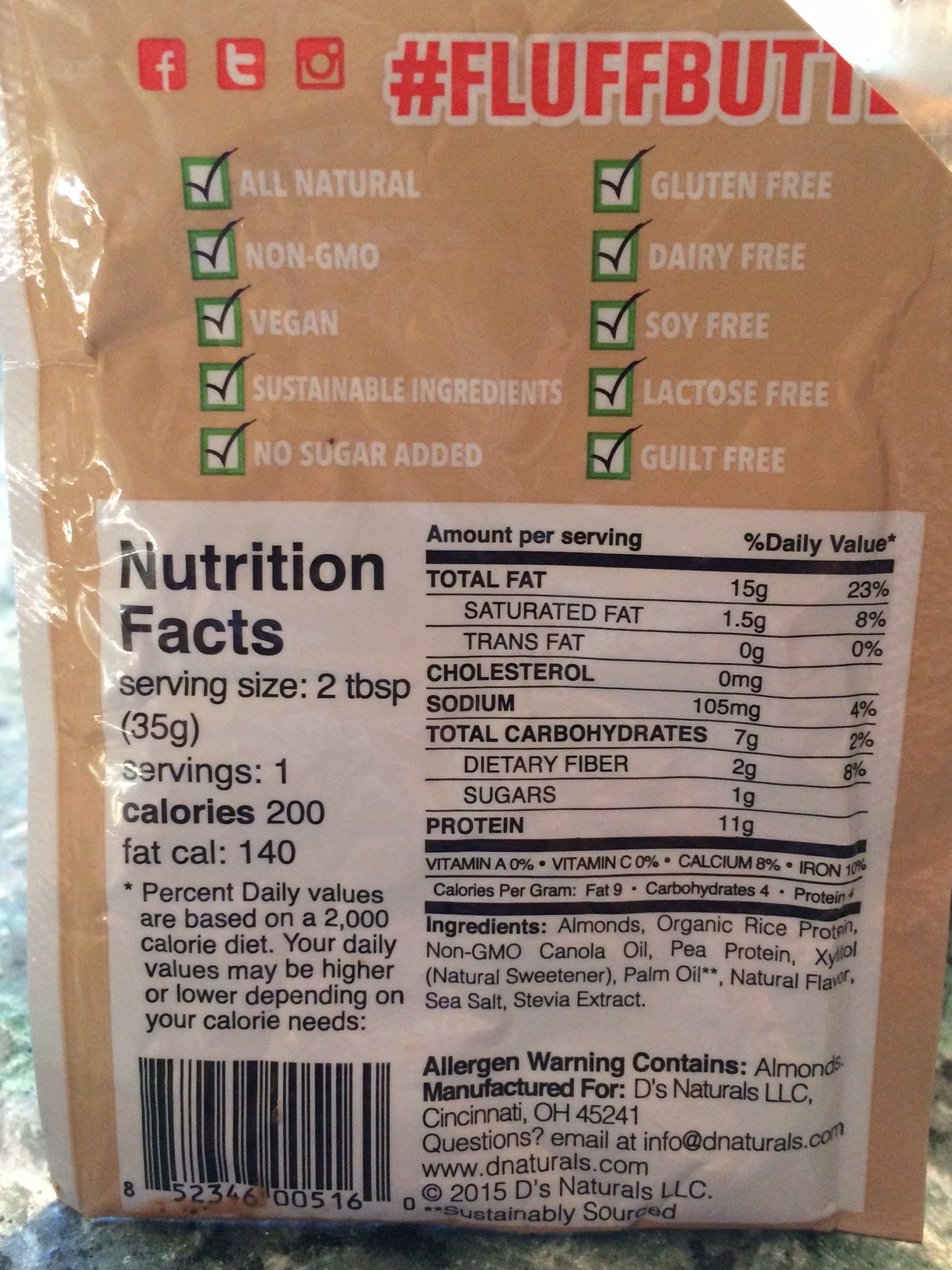 Lastly, the
Chocolate Fudge Cake Batter Almond Fluffbutter. 
This one was pretty good. I liked it better than the Vanilla Maple. It was sweet, but not sugary. It was a little pasty, and you could taste the pea protein. It definitely has a fudge flavor, and reminds me a little bit like chocolate frosting, but not as sugary. Like a protein chocolate frosting. It is creamy, and you can taste the almond which is nice. The flavors are mild, but good. I enjoyed this one straight up- which is vital for me to really enjoy a spread or nut butter. 4 stars
I received these products for free from Vitamin Shoppe. This is an unbiased review.