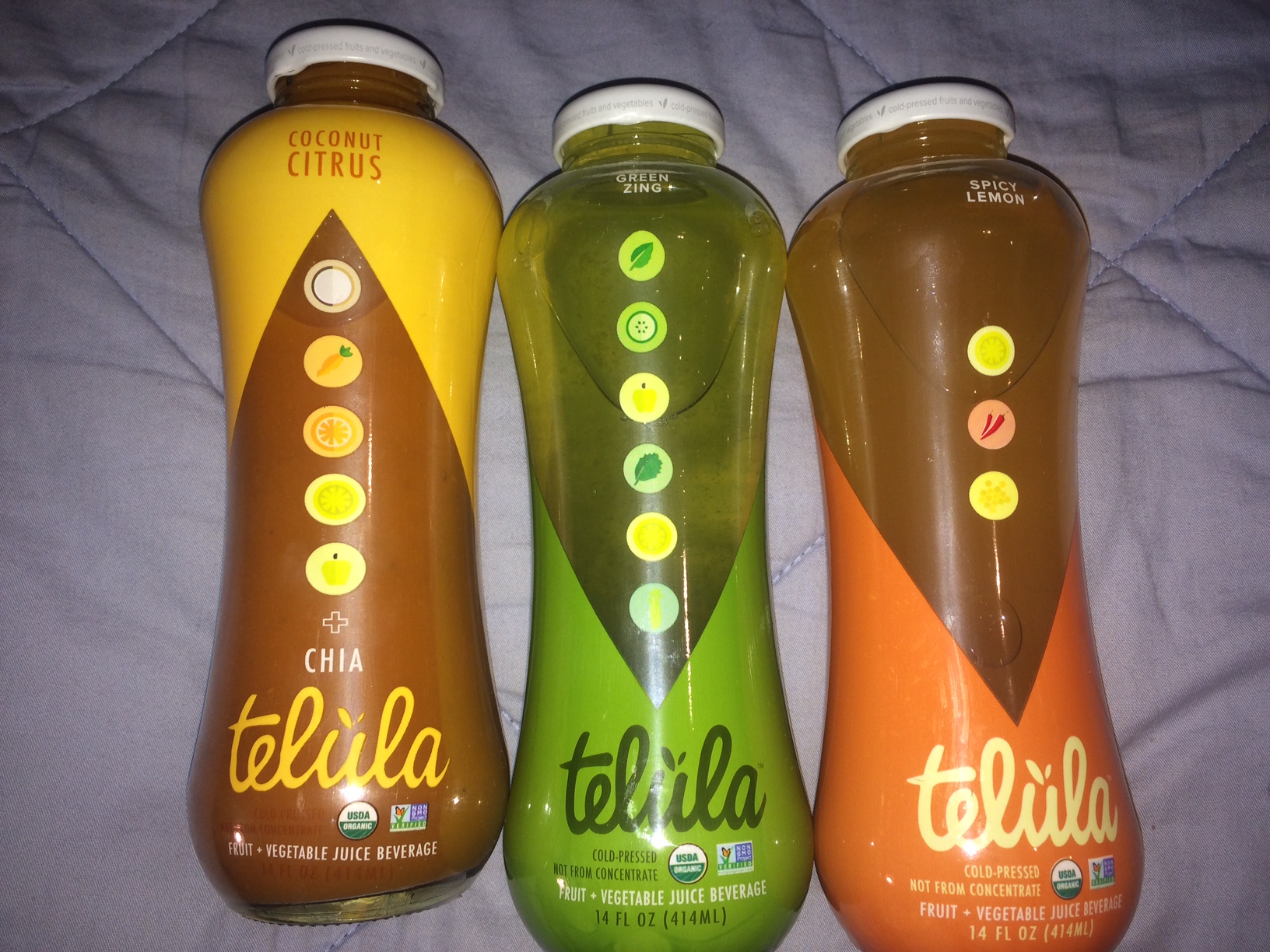 I got some samples from a company I have not heard of before, called Telula. They make organic, NON-GMO, and not from concentrate juices made from fruits and vegetables. They are cold pressed and also are free of added sugar.
They sent me some fun flavored samples to try, in Spicy Lemon, Green Zing, and Coconut Citrus.
Let's start with Spicy Lemon, which has 3 lemons, 6.5 peppers, and 5 teaspoons of honey in each bottle. Honey is technically sugar, so if they add that to juice, I am a little confused how they can claim no added sugar. Perhaps they meant no CANE sugar, but honey is glucose…aka sugar.
Anyway, this bottle had 70 calories a serving, 17 carbs, 16 sugars, and 0's across the board for fat, fiber and protein.
This one was actually really good! It is like a tangy lemonade, with the slightest bit of heat, but also sweet. It is very clean and refreshing tasting. I was definitely afraid of this because of the name…I think a more appropriate name would be Zesty Lemonade or something along those lines, because I certainly wouldn't pick this up in store based off the name alone. However, the taste is delicious! The heat from the peppers leaves a little lingering flavor on your tongue as well. 4 stars.
Next up, Green Zing. This one has 5 spinach bunches, 1.5 cucumbers, 2.5 ginger roots, 1 apple, 2 heads of kale, 1/2 a lemon, and 2.5 celery stalks in one bottle. Dang!! It has 90 calories per 8 ounce serving, with 23 carbs/20 grams of sugar.
This is so, so, SO good! I wish I could drink this all day. It is sweet,much sweeter than I expected, and you can very slightly taste the celery. It is super refreshing, which I think might be from the cucumbers, and tastes like apple juice a bit as well but not as "sugary" tasting and not as tart. This is the best juice I've ever had, and you cannot taste the vegetables! A great juice for kids who won't eat veggies…just don't tell them it's in there! 5 stars
Lastly, Coconut Citrus + Chia.  This one has half a coconut, 2 carrots, 3/4 of an orange, 1 lemon, 1 apple, and 5 tsps. of Chia. This has 120 calories per 8 ounce serving, with 1.5 grams of fat, 23 carbs, 5 grams of fiber, 17 grams of sugar and 3 grams of protein. This one was my least favorite. It was a little tangy, and thicker than any of the other juices. It had coconut flavor, but a bit of an over powering carrot flavor too. The lemon also definitely shines through here. I am not big on consistency in liquids…I don't like pulp in my OJ and I do not like bubble tea…so the Chia seeds aren't my favorite. I don't like "chewing" my drinks.  This almost reminds me of a slightly fruiter V8 tomato juice. Not a huge fan. 3 stars
As a diabetic, I really do not drink juice unless my blood sugar is low. So I may buy a bottle to keep on hand in my fridge, but I will not be drinking on a regular basis. However, I really enjoyed these, ESPECIALLY the Green Zing one, so they are worth a shot!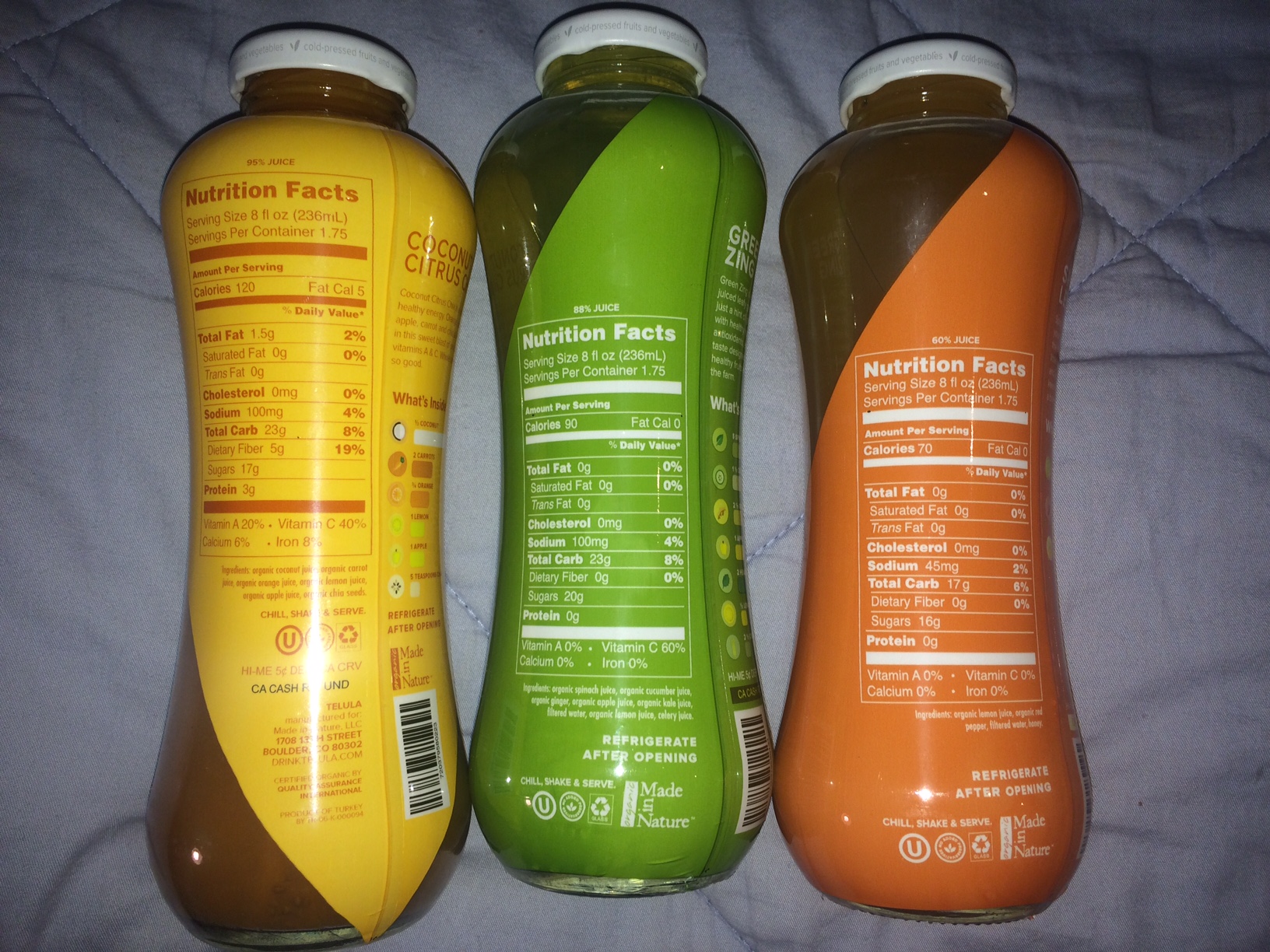 I received this product for free, this is an unbiased review.