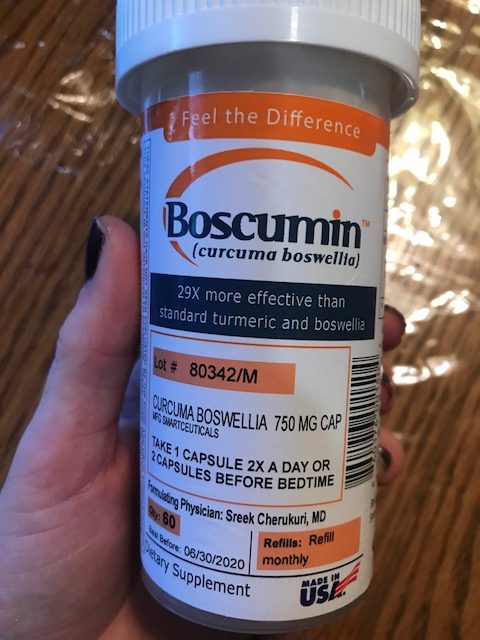 Dietary Supplements can be tricky. If you are not aware, * MOST * are NOT FDA regulated – hence, do we ever really know what is in a dietary supplement?
Well, to solve this problem, Dr. Sreek Cherukuri established SmartCeuticals, which are produced in a NSF certified facility. This is to ensure what is in your supplement is actually what the bottle says it has! 
Dr. Sreek Cherukuri's company established Boscumin, which is a combination of tumeric and Boswellia. This product is supposed to be 29x more effective than standard tumeric and boswellia, as it is bound to fat solulble lecithin for increased absorption.
According to the email I received from the company, they reported a study that found some other tumeric products were synthetic, and made from petroleum. (yuck!!)
Tumeric and Boswellia are natural herbs aimed at reducing inflammation and helping ease joint pain.
Pills are decently big!
These pills are GMO free, dairy, egg, gluten soy, wheat, sugar, salt, yeast, preservative, artificial flavor and fragrance free. They are vegan and gluten free as well.
Here is a picture of the label:
So a bit of feedback, the pills are decently big, and you are instructed to take 2 per day. I am not a *huge* fan of the label looking like a prescription bottle. I understand it is promoting "medicinal effects" per se, but it is not an FDA regulated medicine or prescription, so I'm not a huge fan of the fact the bottle looks as such.
HOWEVER, If you are interested in learning more, please check out the website here. You can use my promo code, LISA, as well!
DISCLAIMER: I received this product to try for free. This is an unbiased post.