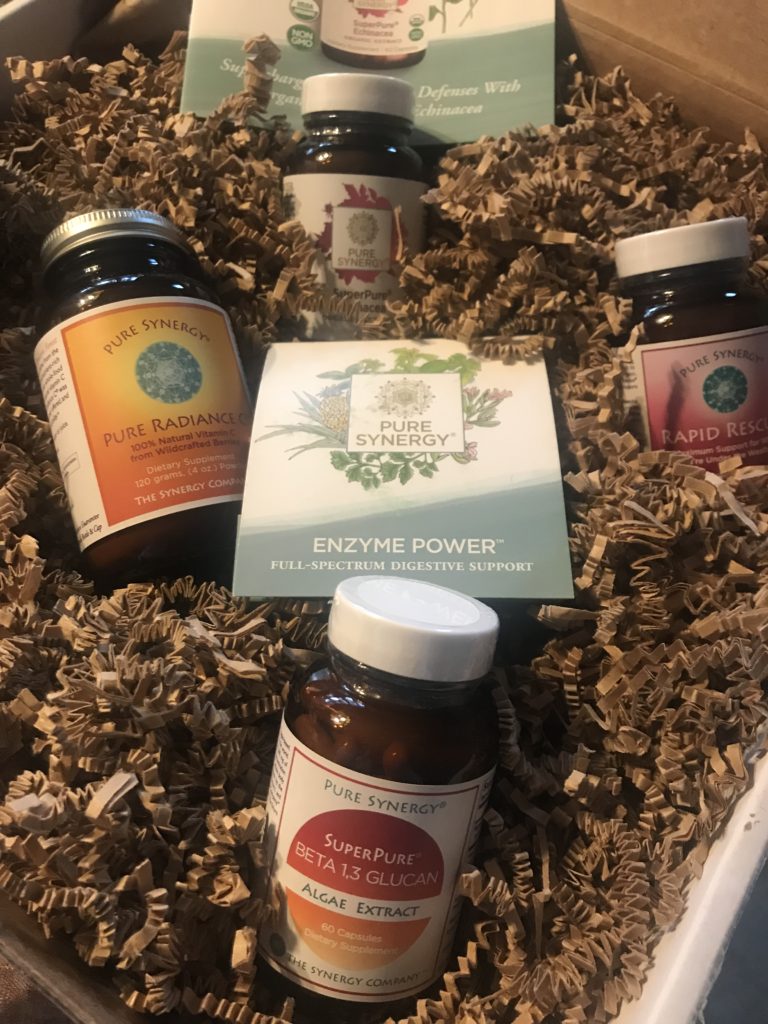 Dietary Supplements – we've all tried and bought a few from here and there. While the FDA does not regulate supplements, you CAN do your best to buy from reputable companies who take pride in what they sell. Synergy Company sent me some of their Organic Dietary supplements from the Pure Synergy line. You can view all their supplements here
I was sent: Super Pure Beta 1,3 Glucan Algae Extract, Pure Radiance C 100% Natural Vitamin C from Wildcrafted Berries, SuperPure Echinacea, Rapid Rescue and Enzyme Powder full spectrum Digestive support. Most of the supplements are Organic and Kosher (but always double check your label!)
So let's get started!
Super Pure Beta 1,3 Glucan Algae Extract:
-each capsule is vegetarian and contains 500 mg of Beta 1,3 Glucan
-okay great, WHAT IS BETA GLUCAN??
-according to the website, it is found in cell walls of mushrooms, yeast and algae, and has been linked to immune-enhancing benefits, as well as promote healthy stress responses and healthy inflammation responses
-unfortunately, my research of Beta 1,3 Glucan is limited. I wish there was a paper to support the statements of the supplement (I'm a science gal). However, I do like that this product is made without harsh chemicals, GMO free, dairy free, yeast free, and gluten free.
Pure Radiance C 100% Natural Vitamin C from Wildcrafted Berries:
–just 1/4 of a tsp of this powdered supplement provides 200% of your RDA of Vitamin C
-organic and kosher
-I added this with my iced tea, and it added just a very slight berry flavor to my drink. I'm sure you could also mix with water, but I preferred it as a little boost with my tea. I had no side effects, and did not get sick the entire month I used the product. Coincidence? Maybe. But maybe not, as we do know Vitamin C's role in immune health and as a co-factor in many enzymatic reactions in the body.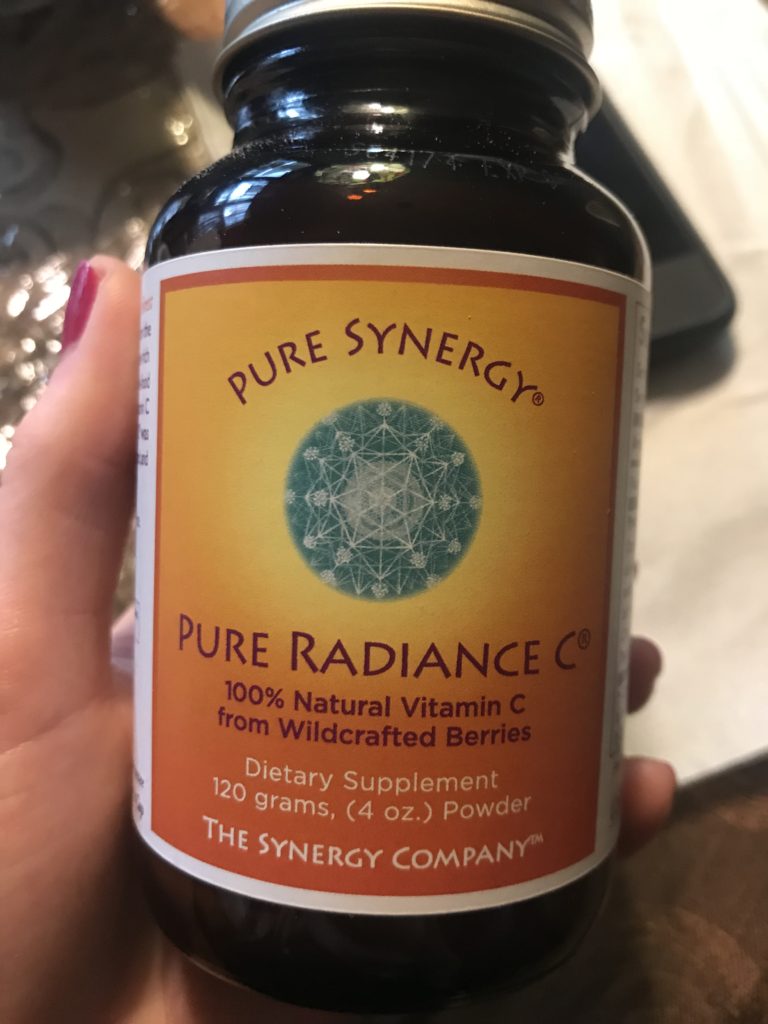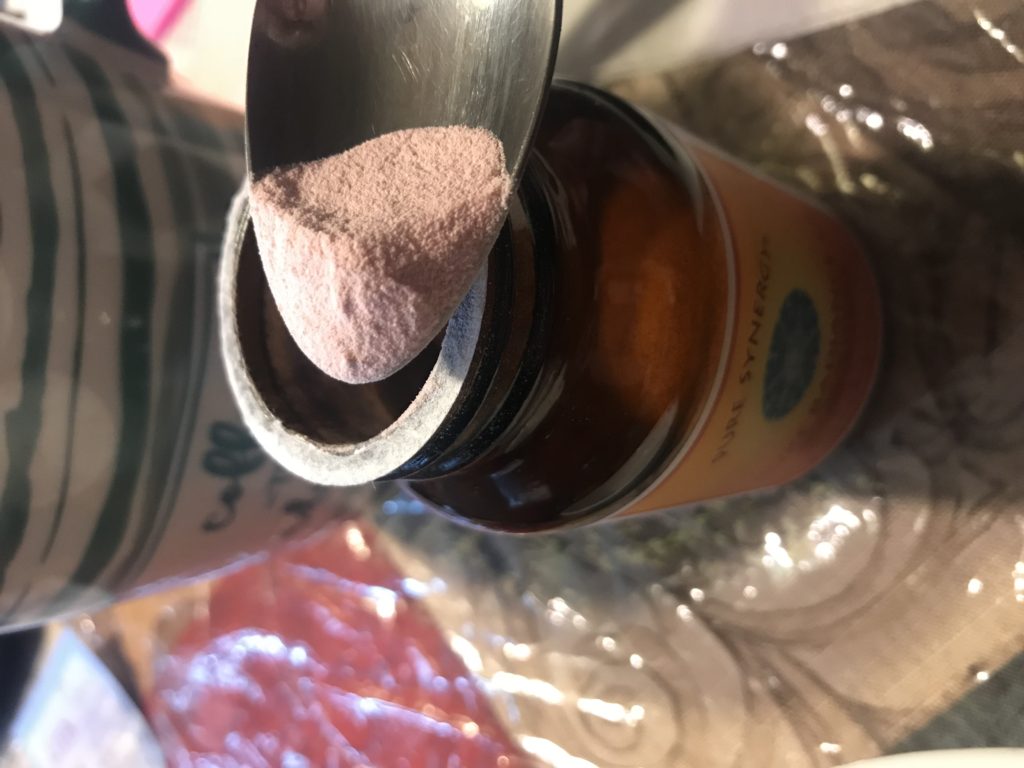 SuperPure Echinacea & Rapid Rescue
-You see echinacea all the time in cough and cold products — but why? It is believed to help "jump start" your immune response, according to the Synergy Company
-You can take the Echinacea or the Rapid Rescue at the first sign of a cold or when you're not quite feeling yourself (naturally, any fever or signs of a more serious illness, please see your doctor!)
-I won't lie, I took the Rapid Rescue at the first signs of a cold (during one of my Pediatric rotations…lots of sick kids!), and felt that the cold was expedited to about 3-4 days instead of my usual that lingers for 5-6 days.
-Of NOTE: I did feel particularly anxious when I took the Rapid Rescue. I cannot comment if that was correlated with the supplement, or extraneous factors. But, I figured I would state it as such.
ENZYME POWDER: Full Spectrum Enzyme Support
-1 pill provides a TON of digestive enzymes.
-For Carbohydrate digestion: amylase, glucoamylase, lactase (for lactose), maltase, invertase
-For Fat digestion: lipase
–For Protein Digestion: bromelain and papain, protease, peptidase, acid protease, serrapeptase, nattokinase
-Plant Fibers: cellulase, hemicellulase, alpha-galactosidase, xylanase, pectinase, phytase, beta glucanase
-& lastly, Digestive "support blend" which includes things such as fennel, red algae trace mineral complex, ginger and tumeric
-I think this would be a good supplement for someone who suffers from indigestion or simple heartburn. Remember, this is not medical advice, and you should ALWAYS see a doctor or PA for medical advice, especially if you have something like ongoing indigestion, etc.
Overall, I like this company, and I feel as if their products are pure. Worth a try!
Let me know if you have tried any of these before and which are your favorites.
DISCLAIMER: I received these for free. This is an UNBIASED review.