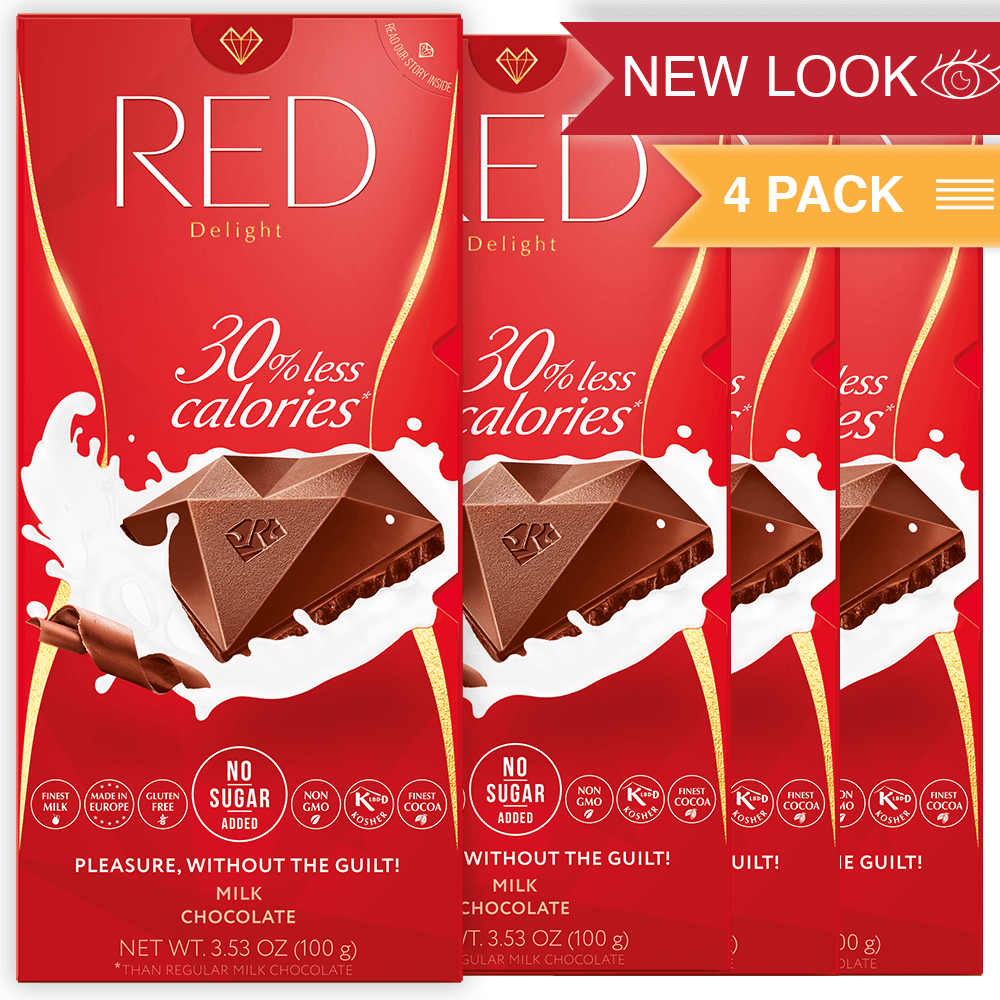 Chocolate with less fat, less calories and still a delicious taste? Count me in!
The nice people over at RED Chocolate sent me over some delicious treats to try. They had me sold at no sugar added – being a Type 1 Diabetic I often avoid sweets all together due to the hyperglycemic spike. However, the no sugar added component intrigued me for sure.
This chocolate has 50% less calories and 43% less fat than regular chocolate. No sugar added. No GMO and gluten Free. I was sent a few flavors to try. 6 pieces is around 100 calories, 8 grams of fat, 23 grams of carbohydrate, 3 grams of fiber, 0 sugar, 10 sugar alcohols (erythritol) and 2 grams of protein.
The bar comes in rather large squares which…ok is not a bad thing. I just want ONE piece. And with ONE piece I get a decent size, 1 inch by 1 inch I would say.
Milk Chocolate – Creamy, sweet, but not sugary. Reminds me of an Easter bunny type flavor. Light in flavor. Enjoyable for sure. – 4 stars
Dark Chocolate – I'll be honest with you I don't typically like dark chocolate due to the bitterness however this one was not bad at all, in fact It was sweeter than typical dark chocolate. I can taste the erythritol which allows for a melt in your mouth consistency. – 4 stars
Milk Chocolate with Hazelnuts and Macadamia – oh MY is this one delicious! Seems to be the sweetest of all the flavors but a perfect mix of chocolate and macadamia, makes It feel quite decadent. My fiancé and I fought over this one and well lets just say he almost ate all of my half of the bar! – 4 1/2 stars
60% Extra Dark Chocolate -this one wa surprisingly not that bitter, again. Creamy, mild sweetness. I find It was rather muted. Not quite bitter enough for those who enjoy that in a dark chocolate and not that sweet for those who like more of a sweet treat. 3 stars
Dark Chocolate with Orange and Almond – my fiancé and I both were not a fan of this one. The orange was a bit overpowering for me but I also think this particular flavor only calls to the people who enjoy that orange flavoring. I was not a fan. 3 stars
Overall, these are a hit! Would definitely buy the milk chocolate and the hazelnut variety in the future. I noticed minimal spike with my blood sugars too which is always a Nice perk. It's always nice finding a sweet treat that doesn't cause havoc on my sugars!
(that being said, this is not medical advice, consult with your RD, CDE, PA-C, NP or MD regarding your own dietary needs!)
DISCLAIMER: I received this to try for free from the company. This is an unbiased review.