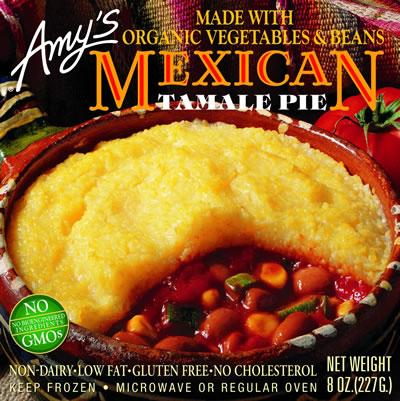 Ole!
Do you like pot pies? ANNNND do you like Mexican food? Well…
Amy's Kitchen has the perfect combination of mexican flavor and the comfort that a homemade pot pie can bring with their Mexican Tamale Pie. What is a Mexican Tamale Pie? you ask. Well, according to Amy's Kitchen it is "Organic beans and vegetables in a lightly spiced Mexican sauce with a golden polenta topping." It's also gluten and dairy free, and only 3 grams of fat.
So, I was certainly interested in this little pie as I was strolling the grocery aisles. I decided to give it a shot- I love Amy's, I love pot pies, and I love her mexican line- how could I go wrong?
This pie was so cute! It was bursting with corn, zucchini and little tomatoes, as well as some pinto beans. The pinto beans were nice and tender too, not mushy at all. The sauce that the veggies were had just a hint of spice, but had mostly a tomato & garlic/onion flavor. It was delicious! My favorite part, of course, was the polenta on top. It's not as thick as depicted on the box, but it was soft and smooth, with a mild corn flavor. I added just a grind of sea salt on top of the polenta and it was AMAZING how much the flavor came out (I know, I shouldn't add salt to frozen meals..but it was just a little! 😀 ). I especially loved the crispy edges from the microwave.
Overall this pie gets a 4 1/2. It has a lot of flavor, is low in fat, gluten and dairy free, and is of course all natural & organic. It's also a GREAT way to get in some veggies! Try this pie if you're feeling something flavorful, but also need something comforting! 🙂
1 pie is 150 calories, 3 grams of fat, 27 carbohydrates, 4 grams of fiber and 5 grams of protein.
FILTERED WATER, ORGANIC PINTO BEANS, ORGANIC TOMATO PUREE, ORGANIC CORN, ORGANIC ZUCCHINI, ORGANIC ONIONS, ORGANIC CORNMEAL, ORGANIC SWEET RICE FLOUR, EXPELLER PRESSED HIGH OLEIC SAFFLOWER OIL, CILANTRO, SEA SALT, SPICES, ORGANIC GARLIC.